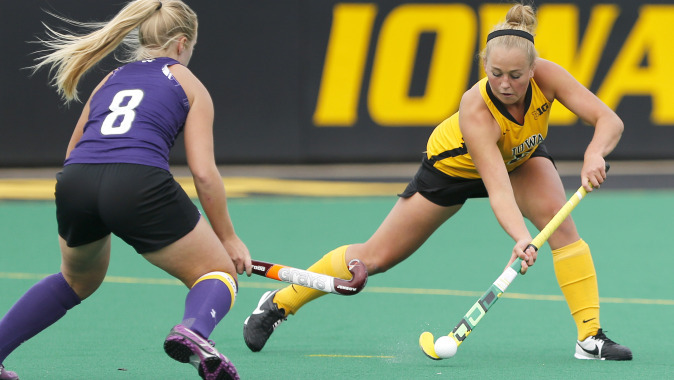 Aug. 20, 2015
IOWA CITY, Iowa — Three University of Iowa field hockey players — Chandler Ackers, Stephanie Norlander and Alexandra Pecora — have been named to the 2015 Big Ten Players to Watch List, announced today by the league office.
Ackers, a junior from White Haven, Pennsylvania, started all 18 contests in 2014, accounting for 11 points on two goals and a team-high seven assists. She was named to the 2014 All-Big Ten Tournament Team, while also garnering Academic All-Big Ten honors. Ackers was also named to the NFHCA Academic Squad for the second-straight year.
A two-time Player to Watch, Norlander was a second-team NFHCA All-American and first-team All-Big Ten honoree in 2014. She started in all 18 contests, scoring 35 points on 15 goals and five assists during her sophomore campaign. The North Vancouver, Canada, native ranked third in the Big Ten and 13th nationally in goals per game (.83), while ranking fifth in the Big Ten and 19th nationally in points per game (1.94). Norlander also scored four game-winning goals last season. In 2013, Norlander was named Big Ten Freshman of the Year in addition to earning NFHCA West Region All-America second-team honors.
Pecora appeared in 17 contests in 2014, starting each game at goalkeeper. The Marlton, New Jersey, native posted a 10-7 mark as a sophomore, collecting 78 saves and recording a .722 save percentage. Pecora tallied a career-high 13 saves at No. 2 Maryland on Nov. 1, and was named Big Ten Defensive Player of the Week on Oct. 28 following her performance in a 4-0 shutout over No. 5 Penn State.
The Hawkeyes' regular season opener is set for Aug. 29 when they travel to Ann Arbor, Michigan to take on Wake Forest in the opening day of the ACC/Big Ten Tournament.