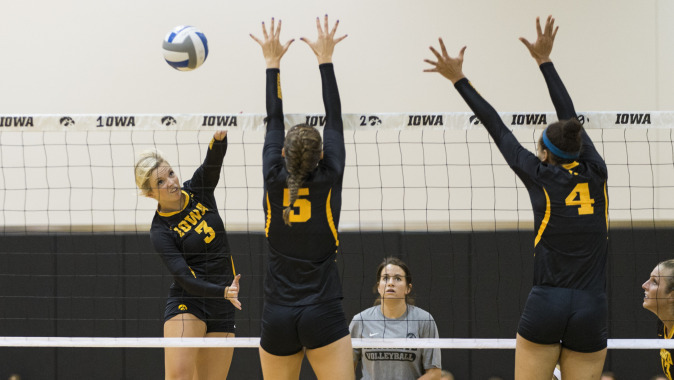 Aug. 22, 2015

Photo Gallery
IOWA CITY, Iowa — The University of Iowa volleyball team made its 2015 debut at the annual Black and Gold Scrimmage on Saturday afternoon in the practice facility at Carver-Hawkeye Arena.
After a few drills, second-year head coach Bond Shymansky greeted the crowd and introduced his 2015 team. From there, the squad split in two and competed in three 25-point sets.
"It was good to dust the rust off and perform in front of a really packed house here," said Shymansky. "Offensively, we looked really strong. We came out of the gate fast, and that's something that we've been working on in preseason.
"We did a really nice job defensively with our ball control, keeping balls alive and being scrappy. That's something that is becoming a new part of our identity that we are working to establish with our group."
Following the scrimmage, student-athletes signed autographs and met with Hawkeye fans in attendance.
"Overall, it's a happy unit," said Shymansky. "We have a productive preseason under our belt. Now we get to take all that work and put it to full force as we get ready for the Northern Illinois Tournament."
Iowa opens the season Saturday, Aug. 29 against South Dakota State and Pacific at the Northern Illinois Tournament. The Hawkeyes take on the host Huskies on Aug. 30.