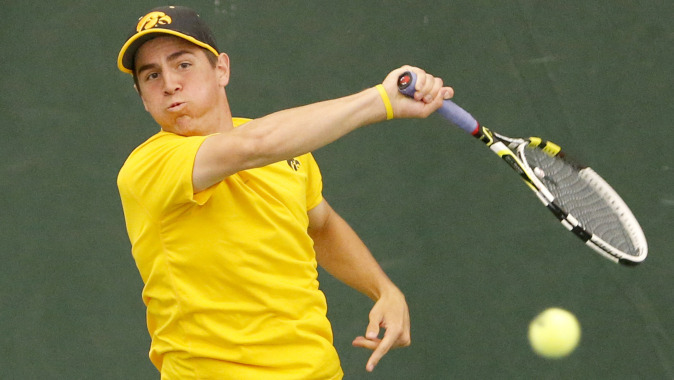 Aug. 26, 2015
Editor's Note: The following first appeared in the University of Iowa's Hawk Talk Daily, an e-newsletter that offers a daily look at the Iowa Hawkeyes, delivered free each morning to thousands of fans of the Hawkeyes worldwide. To receive daily news from the Iowa Hawkeyes, sign up HERE.
By MATTHEW WEITZEL
IOWA CITY, Iowa — Being the lone senior on this year's University of Iowa men's tennis roster will put a premium on Dominic Patrick's leadership.
"It's everything for this team," said second-year head coach Ross Wilson. "He is exactly what we want our guys doing off the court, on the court, and in the classroom. He has set the example. He's going to be the reason why do well this year."
Iowa's nine-man roster includes three freshmen, three sophomores, two juniors, and Patrick. The squad will look to build upon last year's success of capturing more wins than the previous 23 seasons.
Patrick, who won 18 doubles and 15 singles matches as a junior, believes success begins with play and competition over the summer.
"We've been hitting a lot of balls," he said. "That's been our biggest struggle in the past in that we didn't hit enough over the summer and then we started the fall off slow so then we were picking up the pace by the beginning of spring where we need to be at full force."
Patrick says it was paramount that he stayed competitive over the summer to carry over that mindset into the season.
"Over the past couple summers I feel like I lost some of my competitive play when we get into matches," he said. "I would get nervous coming into the season. I have a lot of confidence right now, as does everyone on our team. I believe that will be the big difference that brings us to a good spot this year."
Being the only senior on the squad brings added responsibility, a role Patrick is ready to embrace. He wants to set the model for future leaders in the program.
"If we can get the sophomores and juniors to get used to playing and with the intensity that they should every summer, they'll keep improving and carry it on to the next group," said Patrick. "Being able to pass that approach to the next senior class, I believe I can set the model so we can have a good year and keep moving forward."
Wilson says Patrick was more of a "lead-by-example" player last season. He saw Patrick evolve into more of a vocal leader since the end of the 2015 spring season.
"As he got better and more comfortable, he has become more of a vocal leader," said Wilson. "The expectation for him is to be the team captain."
Patrick will enter his senior season with 53 career singles, which ranks 15th in program history. The Gilbert, Arizona, native is motivated by team success.
"We motivate each other," Patrick said. "We are such a competitive group that we all want to top each other and that works out well because then we go out and compete our hardest. That's when we are going to get our best results."
Along with his leadership responsibilities, Wilson believes Patrick is ready to have a successful season on the court as well.
"He's playing his best and physically is in his best shape," said Wilson. "Mentally, he is at the top of his game. We're expecting big things from him… where he goes is where the ship is going to go."