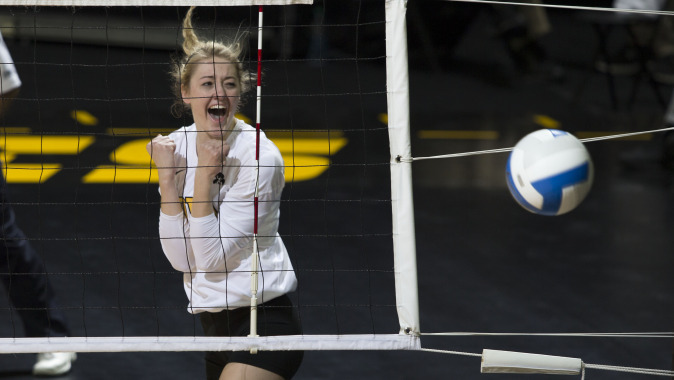 Aug. 29, 2015
Box Score

DEKALB, Illinois — The University of Iowa volleyball team kicked off the 2015 season with a 3-0 victory over South Dakota State on Saturday morning at the NIU Tournament.
"We got a lot of players involved," said Shymansky. "This was really good experience for our young players and our new players."
After two South Dakota State kills, the Hawkeyes used a 6-0 run to establish an early lead. They never looked back from there, using a pair of 5-0 runs to eventually take the first set, 25-13. Lauren Brobst came out swinging early. The junior recorded five kills in the first set, while junior setter Loxley Keala dished out nine assists.
"We talked about executing with high efficiency today, and Brobst certainly led the way with that," said UI head volleyball coach Bond Shymansky." She was on fire, and she was really the player that we need her to be."
The Hawkeyes kept the momentum in set two. Keala led it off with a service ace, and back-to-back kills by sophomore Taylr McNeil and junior Ashley Mariani gave Iowa an early 3-0 lead. South Dakota State used a 6-1 run late to pull within six points, but it wasn't enough as the Hawkeyes took a two-set lead with a 25-18 set win. Three Hawkeyes – McNeil, Brobst, and senior Mikaela Gunderson — recorded four kills each in the second set, while Mariani added two.
Following an early attack error, the Hawkeyes scored four-straight points to take a 4-1 lead. The Jackrabbits came back, coming within one point (5-4), but the Hawkeyes extended their lead with a 14-3 run to cruise to a 25-12 set-three victory.
Twelve Hawkeyes saw action, including seven of the team's eight newcomers. Brobst recorded a team-high 14 kills, Keala led the way with 31 assists and sophomore Annika Olsen paced the squad with 13 digs. The Hawkeyes out-did the Jackrabbits in kills (45-24), hitting percentage (.374-.139), service aces (9-1), and digs (41-28).
"Any time you're talking hitting efficiency, it's like a batting average," said Shymansky. "If you are batting .400 against somebody, you are probably winning. It's a nice first victory for us. Now we just have to flip it around, and make sure we perform even better against Pacific."
The Hawkeyes return to action this afternoon against Pacific. First serve is set for 2:30 p.m. (CT).
| | | | |
| --- | --- | --- | --- |
| Iowa vs South Dakota State | 1st | 2nd | 3rd |
| Iowa (1-0) | 25 | 25 | 25 |
| South Dakota State (0-1) | 13 | 18 | 12 |
Statistical Leaders
Kills: Brobst (IOWA) 14 | Hora (SDSU) 7
Assists: Keala (IOWA) 31 | Leetham (SDSU) 20
Digs: Olsen (IOWA) 13 | Palmer (SDSU) 6
Blocks: Brobst/Gunderson (IOWA) 2 | Three players (SDSU) 1