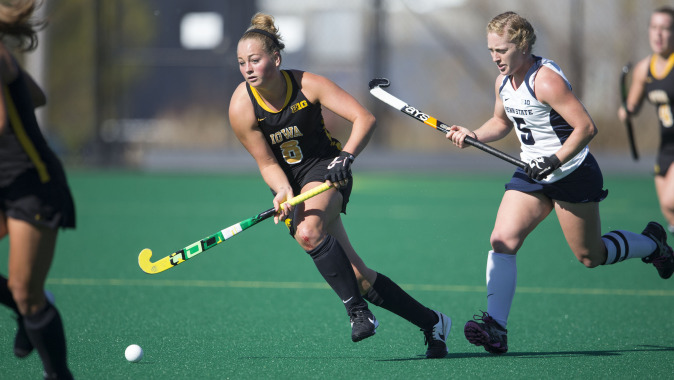 Aug. 29, 2015
Box Score

ANN ARBOR, Mich. — The 17th-ranked University of Iowa field hockey team opened the 2015 season in dramatic fashion, defeating No. 11 Wake Forest 2-1 in overtime during Saturday's opening day of the ACC/Big Ten Challenge, hosted by the University of Michigan.
"Today's win was a total team effort," said UI head coach Lisa Cellucci. "We stuck to the game plan and found a way to manage the different phases of the game."
It didn't take long for the Hawkeyes to get on the board in 2015, thanks to an early penalty corner in the fifth-minute. After freshman Makenna Grewe sent the ball in, sophomore Veronique Declercq fired a rocket at Wake Forest goalkeeper Valerie Dahmen, which deflected right to Grewe who was there to put it in and give the Hawkeyes a 1-0 lead. The goal was the first of Grewe's collegiate career.
In the 29th-minute Wake Forest tied things up at one goal apiece after Jule Grashoff flicked the ball over Iowa's outstretched junior goalkeeper Alexandra Pecora and into the top left corner of the goal. Shannon Eby and Emily Conroe were both credited with the assist.
After a stand-still for nearly the entire second half, things got interesting late. Wake Forest's Sarah Thornhill was assessed a yellow card with 4:09 remaining in regulation, forcing the Deacons to play a man-down for five minutes. However, Wake Forest was able to earn two penalty corners within the final minute of play. The Hawkeye defense came up big by not giving the Deacons any chance of scoring, sending the game into overtime.
The Hawkeyes were in attack mode in overtime. Sophomore Mallory Lefkowitz drove toward the Wake Forest goal working around Deacon defenders before sending off a shot that would bounce off Dahmen right in front of the goal. Three Hawkeyes would dive in desperation to poke it in, but it was junior Stephanie Norlander that would (72:52), giving the Hawkeyes the 2-1 overtime victory.
"We took a big step forward today and I am very proud of the team," said Cellucci.
The Hawkeyes return to Ocker Field on Sunday for day two of the ACC/Big Ten Challenge. Iowa takes on No. 2 North Carolina at 10:30 a.m. (CT).