Aug. 31, 2015
Weekly Release

THE MATCH-UP
The University of Iowa soccer team closes out its season-opening homestand by hosting Northern Iowa on Tuesday at 7 p.m. (CT) at the Iowa Soccer Complex.
ON THE WEB
Iowa soccer fans can follow all home contests via live stats (GameTracker) on hawkeyesports.com. Click on the "GT" link found on both the front page and the soccer schedule page to access the live stats feed. Fans can also follow @HawkeyeSoccer for live in-game updates. Iowa matches will also be streamed on Hawkeye All-Access — a subscription based service.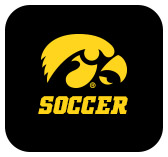 SCOUTING NORTHERN IOWA
? The Panthers bring a 2-0-2 record into Tuesday's match. Northern Iowa tied Nebraska Omaha 1-1 in double overtime on Aug. 28 before downing Eastern Illinois, 3-0, on Aug. 30.
? Northern Iowa went 7-9-3 in 2014, finishing fourth in the Missouri Valley Conference with a 2-3-1 record.
? The Panthers return nine starters, including the sophomore defender Allison Bitter — a Missouri Valley Conference preseason honorable mention selection. Last season, Bitter was named to the MVC All-Freshman team after appearing in all 19 games with 18 starts.
? UNI is led by head coach James Price, who is in his seventh season.
NORTHERN IOWA VS. IOWA — THE SERIES
? Iowa has never lost to Northern Iowa, winning all 12 meetings and outscoring the Panthers, 36-4, in the all-time series. Iowa has won by shutout in nine meetings.
? The Hawkeyes needed double-overtime to defeat Northern Iowa last season in Cedar Falls in their season-opener. Katherine Woodruff scored the game-winning goal in the triumph.
QUICK HITTERS
? Junior Bri Toelle tied the school record for single game assists after notching three assists in Iowa's 4-0 victory over Nebraska Omaha on Aug. 23.
? Three players (Jenna Kentgen, Karly Stuenkel, and Alina Magruder) scored their first career goals in the 4-0 win over Omaha. Sophomore Abbey Toureene also registered her first career point.
? Magruder was named the Big Ten Freshman of the Week on Aug. 25 — Iowa's first Freshman of the Week honoree since 2012.
? The Hawkeyes are 2-0-0, starting the year with two wins for a fourth straight season.
? Iowa showcased its roster depth against Omaha with 22 players seeing game action.
? The Hawkeyes are one of two teams in the Big Ten (along with Rutgers) to have yet to allow a goal this season.
SCHEDULE CHANGE
The Iowa Corn Cy-Hawk Series match on Friday, Sept. 11, has been changed from a 7 p.m. (CT) start time to 6:30 p.m.
LAST GAME
After playing roughly 20 minutes, Iowa's home contest against South Dakota State on Aug. 28 was cancelled due to inclement weather. The two teams plan on rescheduling the matchup. Details about the rescheduled match will be announced at a later date.
TOELLE TIES PROGRAM RECORD
Junior Bri Toelle tied the school record for single game assists after notching three assists in Iowa's 4-0 victory over Nebraska Omaha on Aug. 23. Toelle shares the school record with Morgan Showalter (8/23/08) and Jenna Sorensen (9/5/97).
MAGRUDER NAMED B1G FRESHMAN OF THE WEEK
University of Iowa midfielder Alina Magruder was named the Big Ten Freshman of the Week on Aug. 25.
The Mustang, Oklahoma, native played more than 50 minutes in the first two games of her collegiate career, tallying four shots and two goals in helping the Hawkeyes post a pair of wins over Pacific and Omaha and improve to a 2-0 record for a fourth straight season.
The honor is the first of Magruder's career and she is the first Hawkeye freshman to earn the weekly conference honor since Hannah Clark on Oct. 8, 2012.
TEAM CAPTAIN
Senior Hannah Clark has been named Iowa's team captain for the 2015 season.
3 HAWKEYES ON B1G PLAYERS TO WATCH LIST
Senior Hannah Clark and juniors Amanda Lulek and Corey Burns were named Big Ten Players to Watch for the 2015 season.
Clark started 17 matches last season, logging 1,598 minutes in goal. She ranked third in the Big Ten in save percentage (.844), tied for third in shutouts (9), and ranked fourth in goals against average (0.79).
Lulek, a native of Geneva, Illinois, started 13 games as a sophomore. The defender played every minute in five games, including all 103 minutes (two overtimes) of the Big Ten title game against No. 11 Wisconsin.
Burns saw action in 20-of-22 games last season with 20 starts. The Green Oaks, Illinois, native led the team in assists (seven), and helped lead Iowa's defense that ranked second in the Big Ten in shutouts and fourth in goals against average (0.75).
SENIOR EXPERIENCE
Senior Hannah Clark is back as the unquestioned leader of the 2015 Hawkeyes, and the team's starting goalkeeper — her fourth season in a starting capacity.
Senior Brooke Backes has played 45 games in her first three seasons, scoring two goals and adding two assists. Senior Sarah Mazur played a career-high 15 games as a junior, while fellow senior Mackenzie Guindon is looking to contribute in 2015 following an injury-plagued career.
HAWKEYES ON TV
Iowa will appear on BTN/BTN Plus on BTN2Go eight times during the 2015 season. The Hawkeyes' Oct. 11 home contest against Minnesota will be broadcast live on BTN.
BTN Plus will stream Iowa's games against Michigan State (Sept. 18), Michigan (Sept. 20), Ohio State (Sept. 25), Wisconsin (Oct. 8), Illinois (Oct. 15), Nebraska (Oct. 23) and Rutgers (Oct. 28).
BTN will also be televising the Big Ten Tournament on Nov. 1-8.
LEADER OF THE DEFENSE, Hannah Clark…
? broke the school record for career shutouts in Iowa's 1-0 victory at Michigan State on Oct. 2, 2014. Clark currently has 22 career shutouts.
? was 10-5-1 with nine shutouts and a 0.84 goals against average in 2014. The nine shutouts are the second most in a single season, while the 10 wins are the sixth-most in program history. Clark also holds the school record in both categories, posting 10 shutouts and 15 wins in 2013.
? had four consecutive shutouts from Sept. 7-20, where she had sevens saves over 379:26 scoreless minutes. It was the second-straight season she had a four-game shutout streak.
? Clark has 31 career victories, the second-most in Iowa history, and her 224 career saves rank third in the UI record books. She is four wins shy of passing Emily Moran as the program's all-time wins leader.
TRANSFER ADDED
Junior Rachele Armand joined the Hawkeye soccer program this fall after spending two injury-plagued years at Louisville, helping the Cardinals to an NCAA Tournament berth in 2013.
Armand is one of three players on the Iowa roster from Waubonsie Valley High School in Illinois, along with freshmen Emma Rigby and Morgan Kemerling.
B1G IN THE POLLS
Penn State, Wisconsin, and Rutgers are ranked in the NSCAA Top 25 poll as of Aug. 25.
Penn State is ranked No. 6, Wisconsin came in at No. 13, Ohio State sits at No. 18, and Rutgers was voted No. 24. Minnesota (9) and Maryland (8) are receiving votes.
ROSTER BREAKDOWN
The Hawkeyes enter the season with five starters returning from last year's 14-win team. Head coach Dave DiIanni will lead a Hawkeye squad that features 10 incoming freshmen and one transfer in junior Rachele Armand. Iowa's five returning starters are juniors Amanda Lulek, Bri Toelle, Natalie Krygier, and Corey Burns, and senior goalkeeper Hannah Clark.
2014 IN REVIEW
The Hawkeyes finished the 2014 season with a 14-7-1 overall and 7-5-1 Big Ten record. The seven conference victories ties the program record for Big Ten wins in a single season, and the 14 wins are the second most in school history. After entering the Big Ten Tournament as the No. 5 seed, Iowa posted victories over No. 23 Rutgers and Northwestern to advance to the conference tournament championship game for a second straight season.
The Hawkeyes finished 2014 with a school-record 14 shutouts in 22 games to rank 20th nationally with a .545 shutout percentage. Iowa's defense also was in the top 35 in the country in saves percentage (31st, .838) and goals against average (35th, .754).
Academically, the Hawkeyes garnered the NSCAA Team Academic Award for an eighth straight season, and nine soccer student-athletes garnered Academic All-Big Ten honors. Seniors Caitlin Brown and Emily Scott received Scholar All-Region recognition.
BURNS, ARMAND WIN WPSL NATIONAL TITLE
Juniors Corey Burns and Rachele Armand helped lead the Chicago Red Star Reserves to a Women's Premier Soccer League (WPSL) National Championship — the team's first national title — on July 27 in Edmond, Oklahoma.
NEXT UP
The Hawkeyes will travel to Missoula, Montana, for a Sept. 4, neutral site game against Utah State. Kickoff is scheduled for 3 p.m. (CT).