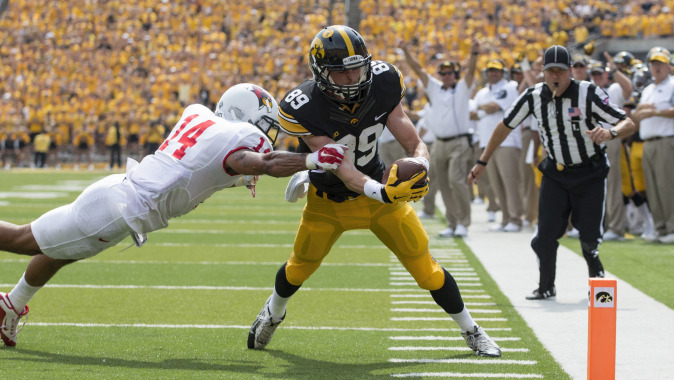 Sept. 7, 2015
Editor's Note: The following first appeared in the University of Iowa's Hawk Talk Daily, an e-newsletter that offers a daily look at the Iowa Hawkeyes, delivered free each morning to thousands of fans of the Hawkeyes worldwide. To receive daily news from the Iowa Hawkeyes, sign up HERE.
By DARREN MILLER
hawkeyesports.com
IOWA CITY, Iowa — Prior to Saturday's season-opening ray of sunshine, the last time Hawkeye football fans saw junior wide receiver Matt VandeBerg, he was scoring on an 18-yard reception in the 2015 TaxSlayer Bowl.
That score was a bright spot during a loss to Tennessee. And after nine months of "grinding," an improved version of VandeBerg is back in the lineup and he was highlighted during a 31-14 victory over Illinois State on Sept. 5 inside Kinnick Stadium.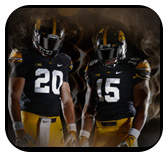 On the game's first play from center, VandeBerg made a 5-yard reception via the right arm of junior quarterback C.J. Beathard. He caught five more, leading the Hawkeyes on the day and establishing a new career high for receptions in a game.
The 6-foot-1, 185-pound VandeBerg hails from Brandon, South Dakota. He was one of four true freshmen to see action in 2013, catching eight passes for 59 yards. Four of the receptions came against Michigan State. Last season he added 14 more catches, including five for 90 yards against Northwestern. His only touchdown came in the postseason against the Volunteers.
Since the bowl game — like all the Hawkeyes — VandeBerg hit the weight room and added strength.
"I am able to block on the perimeter better and create separation," he said. "I feel my entire game has improved."
| | |
| --- | --- |
| | "Matt is a great receiver and I have full faith in him. He is going to be where I need him to be when I need him to be there. He is a good receiver and he did a great job." |
Count Beathard among the believers. He looked to VandeBerg early and often against the Redbirds…to the tune of six catches for 59 yards and a 9-yard touchdown that gave Iowa a 24-0 lead late in the third quarter.
"C.J. put the ball on the money, Tevaun (Smith) and Hilly (Jacob Hillyer) were out there making their blocks and it made my job easy," VandeBerg said. "All I had to do was run to the corner."
Because of an effective running game (44 carries, 210 yards, three touchdowns), the Hawkeyes attempted just 25 passes. The 16 receptions (for 221 yards) were spread among five receivers. Look for Beathard to continue sharing the wealth and leaning on VandeBerg.
"Matt is a great receiver and I have full faith in him," Beathard said. "He is going to be where I need him to be when I need him to be there. He is a good receiver and he did a great job."
Two of VandeBerg's receptions Saturday led to first downs, another to a touchdown, and a fourth set up a field goal. Not too shabby for a guy making his fourth start in 24 collegiate games.
"I want to focus on what I'm doing and make myself better every day," VandeBerg said. "I know C.J. has confidence in me, I know the coaches have confidence in me, otherwise I wouldn't be on the field. To come out and be able to play like that means a lot. It adds more dimensions to our offense."
In the last four games, VandeBerg, nicknamed "meerkat" by coaches and teammates, has 11 catches for 160 yards and two touchdowns — second on the team to Smith (13-210-1).
Next up for the Hawkeyes is their first road game of the season Sept. 12 at Iowa State in the Iowa Corn Cy-Hawk Series. Kickoff from Jack Trice Stadium in Ames is set for 3:45 p.m. (CT).