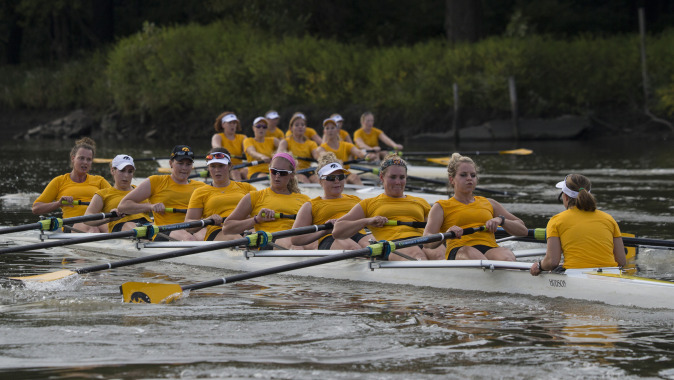 Oct. 3, 2015
Download your Hawk Talk Monthly android app

IOWA CITY, Iowa — The University of Iowa rowing program gained valuable experience this weekend against back-to-back NCAA Championship participant and Big Ten rival Indiana in a pair of scrimmages.

There were no official team results, however both teams benefited from the experience.

"It went pretty well," UI head coach Andrew Cater said. "The conditions were a little bit challenging out there, but I thought both the Indiana and Iowa crews did a nice job handling the situation.

"I thought our crews had good composure and poise. They showed good early season speed from both programs, which is encouraging."

The weekend marks the Hawkeyes' second rowing event this year, and the team has four remaining events this fall. The scrimmages on Friday and Saturday proved to be a great experience for both teams, on the river. They each showed good progress and had flashes of brilliance on the water.

"I think racing against a top notch team like Indiana and fairing as well as we did helps us build confidence," Carter said. "I think also being able to stay on their game when faced with that level of competition is a good lesson to learn because they're going to face it within the Big Ten and beyond.

"It's something they really need to build on and I think they laid a good foundation today."

Iowa is back in action in Lawrence, Kansas on Oct. 17 against the University of Kansas Jayhawks.