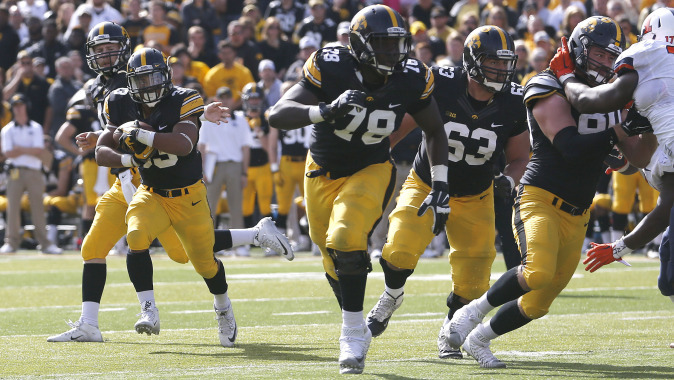 Oct. 11, 2015
Editor's Note: The following first appeared in the University of Iowa's Hawk Talk Daily, an e-newsletter that offers a daily look at the Iowa Hawkeyes, delivered free each morning to thousands of fans of the Hawkeyes worldwide. To receive daily news from the Iowa Hawkeyes, sign up HERE.
By DARREN MILLER
hawkeyesports.com
IOWA CITY, Iowa — More than 10 minutes remained Saturday when Illinois scored on a 53-yard pass to cut the University of Iowa's lead from 10 points to three. That meant the Hawkeyes needed two things: a time-consuming drive and points.
They got both to send nearly 67,000 fans into a frenzy during a 29-20 homecoming victory in Kinnick Stadium.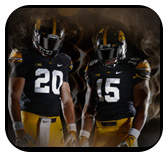 Iowa's game-clinching series began at its own 25-yard line with 10:13 remaining. The Hawkeyes called 11 straight running plays for 59 yards — all going to senior Jordan Canzeri.
"I could hear the crowd and all of us in the huddle were excited," Canzeri said. "We knew what we needed to do. We were on a mission to kill the clock and get points. We got it done."
The 13-play, 59-yard drive consumed 6 minutes, 53 seconds. It culminated with a 34-yard field goal by Marshall Koehn to extend the Hawkeyes' lead to 26-20.
"Coach Brian (Ferentz) was yelling for us to execute and grind, so that's what we had to do," said senior right guard Jordan Walsh. Illinois had 3:20 left and a touchdown and point-after could give the Illini a lead. But on the next play from scrimmage, Illinois freshman Ke'Shawn Vaughn was stripped of the ball by Iowa freshman Parker Hesse and sophomore linebacker Josey Jewell recovered.
| | |
| --- | --- |
| | "The guys settled down and the offense did a great job. That last drive was so important and critical, and I am proud of the guys' effort there." |
Koehn sealed the win a minute later with a 40-yard field goal. Before the final kick, Iowa ran the ball three times…all by (guess who?) Canzeri.
The 5-foot-9, 192-pound Canzeri set a school record with 43 rushing attempts; his 256 yards in a game ranks third all-time behind Tavian Banks and Ed Podolak.
While he was chewing up yardage, the Hawkeyes were chewing the game clock. Iowa held the ball nearly 36 minutes (35:51), including11:52 of the final 15 minutes.
"The slightest edge adds up and that was the drive that allowed us to win the game," said true freshman James Daniels, who did not start, but spent time at left guard and right tackle. "We were able to move the ball at the end of the game by doing the little things right."
It led to a sixth consecutive victory for the No. 17 Hawkeyes, who are bowl eligible for a 14th time in 15 seasons.
Iowa's victories in 2015 have come against three teams that played in bowl games last season (Pittsburgh, Wisconsin, and Illinois), as well as Illinois State, the Football Championship Subdivision runner-up. Those four teams are a combined 16-6 this season.
The Hawkeyes are 2-0 to begin Big Ten Conference play for the third time in four seasons. Making that possible was the fact Iowa had three drives of 13 plays against the Illini.
"The guys settled down and the offense did a great job," UI head coach Kirk Ferentz said. "That last drive was so important and critical, and I am proud of the guys' effort there."
Iowa returns to action Oct. 17 against No. 20 Northwestern (5-1 overall, 1-1 Big Ten) at Ryan Field in Evanston, Illinois. The Hawkeyes have won their last two road games.