Box Score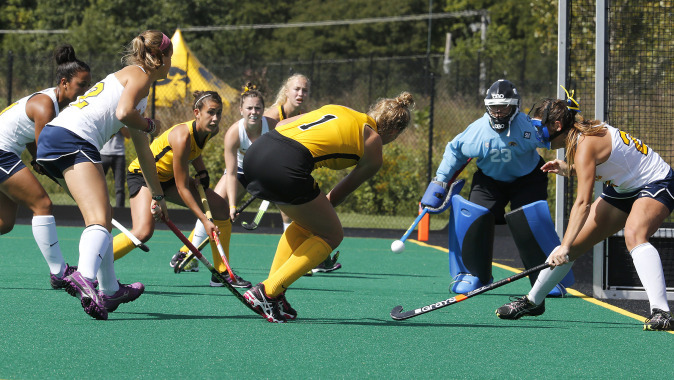 Oct. 11, 2015
MOUNT PLEASANT, Mich. — Three Hawkeyes combined to score four goals, sending the University of Iowa field hockey team past Central Michigan in a nonconference showdown on Sunday at the Central Michigan Field Hockey Complex. The Hawkeyes dropped the Chippewas, 4-1, to improve to 8-6 overall.
Heading into halftime, the Hawkeyes led 1-0. In the 32nd minute, junior Chandler Ackers secured a pass from fellow junior Stephanie Norlander before flicking it past Central Michigan's goalkeeper for the score.
Iowa outshot Central Michigan, 5-1, in the opening half, while also holding a 4-0 advantage in penalty corners.
Midway through the second half, the Chippewas evened the score at one with a goal in the 50th minute. However, the Hawkeyes followed with three more goals of their own to seal the victory.
Sophomore Veronique Declercq (51:48) and Norlander (52:39) scored before Ackers notched her second goal of the game in the 67th minute. Ackers' two-goal performance on Sunday was her second of the year.
Iowa tallied 16 shots and nine penalty corners in today's victory.
The Hawkeyes return to Iowa City next weekend for a pair of Big Ten contests. Iowa hosts Michigan State on Oct. 16 and Ohio State on Oct. 18.