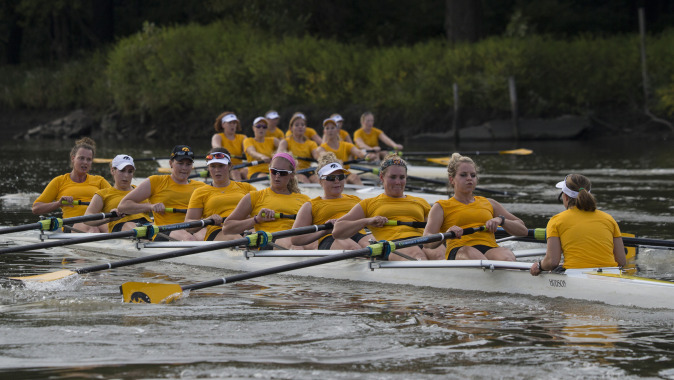 Oct. 16, 2015
IOWA CITY, Iowa — The University of Iowa women's rowing program concludes fall competition this weekend. The team will split, with 1V8 and 1V4 Hawkeye crews competing at the historic Head of the Charles Regatta and the rest of the crews in action at Kansas.
The Head of the Charles Regatta, held on Oct. 17-18, in Boston, Massachusetts, puts the Tigerhawk on the international radar. The Hawkeyes will face national teams from the U.S., Germany, and the Netherlands in addition to top NCAA teams from the Big Ten Conference, Ivy League, Pac-12, and ACC.
"We have a couple of entries at the Head of the Charles, and it has been a long time since Iowa has done that," head coach Andrew Carter said. "That is about laying foundations and setting platforms that the program can move forward from."
The world's best crew teams have competed in the Head of the Charles since 1965. It attracts more than 11,000 athletes and 400,000 spectators, and takes place on the Charles River. It is an exciting and historic event for the Hawkeyes to take in and experience.
To read more about the regatta, see a course map, view the race schedule, and access results, visit hocr.org. Live results can be accessed at hocr.org/the-regatta/results/.
Iowa crews in action elsewhere will also receive a challenge at the Jayhawk Jamboree hosted by Kansas on Oct. 18. With 1V8 and 1V4 crews competing elsewhere, every crew competing in Lawrence, Kansas, will jump up a rung. It will provide an opportunity for crews to see how they stack up with other programs in attendance.
The Jayhawk Jamboree has a lively atmosphere with live music, a fun zone, and festival food available to fans throughout the event. Sunday's event is the largest it's ever been, with nine teams and 123 boats competing at many levels. The Hawkeyes in particular will face Kansas State, Tulsa Creighton, and Kansas in women's varsity competition.
Events are set to run from 11 a.m. to 4 p.m. A time-trial format, which involves boats launching approximately 15 seconds after one another, will be utilized since the Kansas River is not wide enough for head-to-head competition. Results will be posted on the Kansas rowing Twitter account (@KU_Rowing).