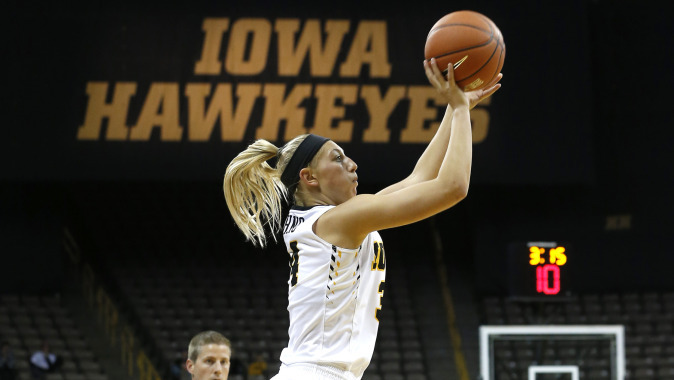 Dec. 8, 2015
Game Notes – at Iowa State

THE RIVALRY GAME
No. 19-ranked University of Iowa will face Iowa Corn Cy-Hawk Series rival Iowa State on Friday at 7 p.m. (CT). The game will be played inside James H. Hilton Coliseum in Ames, Iowa.
GAME COVERAGE
? Hawkeye fans can watch a live stream of the game online at cyclones.tv.
? Audio of the contest will also be available on select Hawkeye Radio Network stations and online through Hawkeye All-Access. Brent Balbinot and Kathryn Reynolds will call the action.
? Balbinot is in his 12th year as Iowa's play-by-play voice, while Reynolds is in her first providing analysis.
? Reynolds, a member of the infamous Core Four and team captain for the Hawkeyes in 2014-15, is pursuing a law degree at the University of Iowa.
? Links to video, audio, and live stats are available on the women's basketball schedule page at hawkeyesports.com.
IOWA CORN CY-HAWK SERIES BREAKDOWN
? The Hawkeyes lead the Cyclones, 10-4, entering this week of action.
? Iowa has defeated Iowa State in women's soccer, volleyball, football, and wrestling this year, and has also earned the academic point. Iowa State earned points with wins in men's and women's cross country.
? Five competitions remain in the series, with three occurring this week. The men's basketball matchup is set for Thursday, while both swimming and diving and women's basketball competitions will take place on Friday. All three contests will take place in Ames, Iowa.
SERIES NOTES
? Iowa leads Iowa State, 24-21, in the all-time series. The home team has won 13 of the last 14 meetings in the series, including the last eight matchups.
? The Hawkeyes last defeated the Cyclones in Ames, Iowa, 75-55, in the 1989-90 season.
? In 2014-15, Iowa recorded a 76-67 win on Mediacom Court in Carver-Hawkeye Arena.
A LOOK AT IOWA STATE
? Iowa State, a team picked to finish third in the Big 12 this year, brings a 4-3 record into the rival game.
? The Cyclones are 1-1 against in-state schools, after a loss at Drake, 74-70, on Nov. 15 and at Northern Iowa, 84-75, on Dec. 2.
? As a team, Iowa State averages 75.9 points per game and out-rebounds its opponents by an average of 7.5 per game.
? Four average in double figures in scoring for the Cyclones, including Seanna Johnson (17.4), Bridget Carleton (13.3), Jadda Buckley (11.3), and Bryanna Fernstrom (11.0). Carleton is expected to miss a few months, after leaving the Duke game with an injury.
? The Cyclones roster, comprised of four freshmen, three sophomores, three juniors, and two seniors, is led by 21-year head coach Bill Fennelly. He is the dean of Big 12 women's basketball coaches.
CRACKING THE TOP 20
? With an 8-1 record on its resume, Iowa came in at No. 19 in the week five release of the USA Today Coaches Top 25 poll.
? The Hawkeyes also re-entered the Associated Press Top 25 Poll this week at No. 23, after falling out in week four.
? Iowa has been represented in the USA Today's poll every week this season: preseason (No. 23), week two (No. 23), week three (No. 21), week four (No. 24), and week five (No. 19).
? The Hawkeyes have been included in the AP poll in two of five weeks this season, but have received votes each week. The squad earned a No. 25 ranking in week three after starting the season 4-0, but fell out in week four following its first loss to then-ranked No. 23 George Washington in double overtime.
DISTEROFT RECOGNIZED AS STUDENT-ATHLETE OF THE MONTH
? UI Student-Athlete Academic Services recognized junior Ally Disterhoft as the November female Student-Athlete of the Month on Dec. 7.
? Disterhoft has scored in double figures in all nine games this season, and in 54 of her 60 career starts.
? The co-captain and three-year starter for the Hawkeyes became the 34th player in program history to score 1,000 career points in the second game of the season, and has since moved up to 30th on Iowa's all-time scoring list with 1,122 career points.
? Through nine games played, Disterhoft leads the team in points per game (16.1) and assists (32).
? The 6-0 forward was named to the Big Ten Honor Roll for her role in two Hawkeye victories last week.
? Disterhoft was named to the Allstate WBCA Good Works Team on Dec. 2 for her involvement in helmet awareness on mopeds in the Iowa City area and the Live Like Line (#LLL) organization.
HOME STREAK RANKING
? Iowa women's basketball has won 22 consecutive games on Mediacom Court in Carver-Hawkeye Arena.
? The streak began when the Hawkeyes posted a perfect 18-0 mark at home in 2014-15 and has continued into the 2015-16 season.
? The 22-game win streak is the third longest home win streak in program history.
? Iowa's longest home win streak lasted 46 games, including the final 13 home games of the 1986-87 season, all 14 home games in the 1987-88 season, all 14 home games in the 1988-89 season, and the first five home games of the 1989-90 season.
? The second longest home win streak lasted 25 games. It began when the Hawkeyes went 17-0 at home in 1992-93 and stretched eight home games into the 1993-94 season.
? Eleven home contests remain on the 2015-16 schedule, including nine against Big Ten opponents.
? Iowa was one of 13 teams nationally to finish undefeated on its home court with an 18-0 mark last season, a program record for wins at home in a single season.
DISTERHOFT MAKES HISTORY
Junior Ally Disterhoft became the 34th player in Iowa women's basketball history to reach the 1,000 career points mark. The Iowa City, Iowa, native scored 20 points in season-opening action against North Dakota and surpassed the 1,000-point threshold with 11 points against UT Martin.
Disterhoft has since moved up to 30th all-time in scoring with 1,122 career points. The guard, who is averaging 16.1 points per game to lead the Hawkeyes, is eight points from surpassing Lisa Anderson (1980-84), who is 29th with 1,129 points.
DISTERHOFT NAMED TO WBCA ALLSTATE GOOD WORKS TEAM
? Junior Ally Disterhoft was named to the 2016 WBCA Allstate Good Works Team this week.
? Student-athletes are recognized for making outstanding contributions in the areas of volunteerism and civic involvement, and for their leadership on and off the court.
? Disterhoft was nominated for raising helmet awareness for moped riders in the Iowa City area and has a close connection to Live Like Line (#LLL) cause.
2 TOURNAMENTS, 2 TEAM TROPHIES
? The Hawkeyes have taken home the hardware in every tournament so far this season, beginning with the Hawkeye Challenge, Nov. 13-15, and continuing at the Lone Star Showcase, Nov. 26-28.
? Iowa topped North Dakota and UT Martin at its annual tournament in Iowa City opening weekend to secure its first team championship with a 2-0 record.
? Ally Disterhoft (MVP), Kali Peschel, and Megan Gustafson earned Hawkeye Challenge All-Tournament team accolades.
? The Hawkeyes edged out the competition in their bracket at the Lone Star Showcase over Thanksgiving break. The squad recorded wins over Wright State and Houston, but fell to No. 23 George Washington in double overtime.
? Iowa and George Washington both posted 2-1 records, but the Hawkeyes earned the team title by the margin of victory tie breaker.
UP NEXT
Iowa returns to Carver-Hawkeye Arena to host Bradley on Dec. 19. Tipoff is set for 5 p.m. (CT) and the game will be shown live online on BTN Plus at btn2go.com.