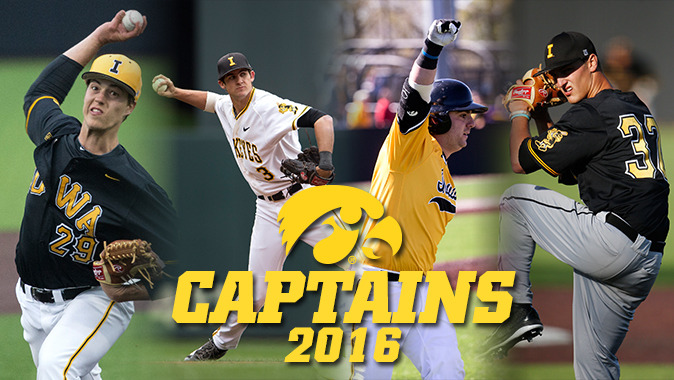 Jan. 13, 2016
IOWA CITY, Iowa — Seniors Tyler Radtke, Nick Roscetti, Jimmy Frankos, and Calvin Mathews have been voted team captains for the 2016 University of Iowa baseball team, UI head coach Rick Heller announced Wednesday.
Radtke, a right-handed pitcher from Buffalo Grove, Illinois, is a captain for a second straight season. As a junior, he appeared in 19 games, posting a 5.31 ERA and converting 2-of-3 save opportunities. Radtke allowed 15 runs on 24 hits over 20 1/3 innings. He is a two-time Academic All-Big Ten selection.
Roscetti, a third-team All-Big Ten selection at shortstop, started 55-of-56 games as a junior, hitting .303 with 27 runs and 27 RBIs. In league play, the Sherman, Illinois, native posted the fourth-best average in the Big Ten, hitting .391 with 15 runs and 18 RBIs. His 36 hits were the second-most in league play.
Frankos, a two-year starter at catcher, appeared in 40 games with 26 starts as a junior. He hit .202 with 10 RBIs and seven runs scored. The Park Ridge, Illinois, native was the Co-Big Ten Player of the Week on April 27 after hitting .500 with three RBIs in a sweep over No. 25 Nebraska. He drove in the game-winning run in the 10th inning of the series opener.
Mathews, a second-team All-Big Ten selection as a starting pitcher, went 5-3 with a 2.45 ERA over 73 1/3 innings as a junior. The Bloomfield, Iowa, native ranked seventh in the Big Ten in ERA and 13th in batting average against. Mathews allowed one earned run or fewer in 11 starts.
The Hawkeyes return three All-Big Ten selections, 2/3 of their starting rotation, and four positional starters in 2016 from a team that went 41-18 en route to its first NCAA Regional appearance in 25 years. Iowa finished as the Big Ten runner-up and was listed in the final national rankings for the first time in program history.
Iowa's first official team practice is Jan. 29. The Hawkeyes open the 2016 season in the Lone Star State, squaring off against Dallas Baptist from Feb. 19-21 in Dallas.