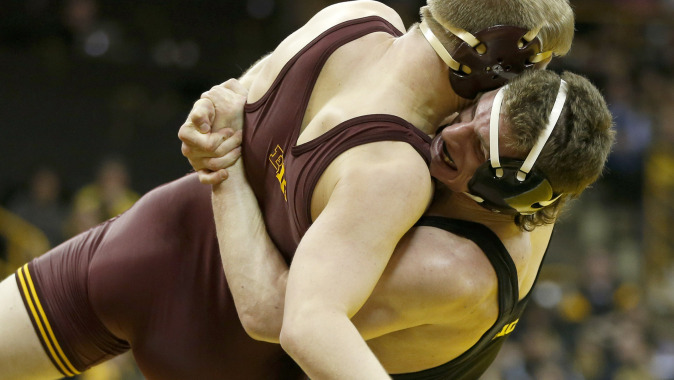 Jan. 29, 2016
No. 2 Iowa 34, No. 23 Minnesota 6 Photo Gallery

By DARREN MILLER
hawkeyesports.com
IOWA CITY, Iowa — There was little doubt that University of Iowa junior 184-pound wrestler Sammy Brooks would bounce back from his only career loss by fall suffered Jan. 24 at Nebraska.
Brooks, ranked No. 7 in the country, improved to 19-2 on the season with an 18-2 technical fall over Minnesota sophomore Chris Pfarr on Friday in front of 11,174 inside Carver-Hawkeye Arena. If winning by 16 points isn't enough, consider Brooks did it all during the three-minute first period.
"You will very quickly become a crowd favorite doing that," UI head coach Tom Brands said of Brooks after the No. 2 Hawkeyes defeated No. 23 Minnesota, 34-6. "Good job. Now let's do it against everybody."
It was the fourth win by technical fall this season for Brooks. The only thing that could top it would be winning by fall for a sixth time.
"We need to work a little harder at catching the guy where you don't let him wiggle off his back and get the fall there," Brands said. "When we iron that position out, then we're pretty bullet proof."
Brooks is five days removed from suffering just the seventh dual loss of his collegiate career. Nebraska's T.J. Dudley — who Brooks defeated 6-4 in overtime in 2014 — won the rematch by fall in 2:46.
Brands told Brooks not to dwell on the setback and to move forward. He pounded on Hawkeye sparring partners in the days leading up to Friday's dual.
"I'm always eager to get on the mat, you always want to compete," Brooks said. "I would much rather beat up on somebody from another team than my teammate."
Brooks couldn't wait to get back on the mat and he took it out on Pfarr (9-15) to the tune of three takedowns, two 2-point nearfalls, and two 4-point nearfals.
"(Coach Brands) always says it's harder to move forward with a bad match; it's a lot easier to go forward with success, but there is also that aspect that you want to take it out on the next guy," Brooks said. "I wanted to follow the example some of those other guys have set where it's all fast pace, all Iowa, all scoring, and getting people excited and hitting big moves in my own way."
The 28-point margin of victory for the Hawkeyes was its largest since a 44-2 win over the Gophers on Jan. 24, 1992.
No. 2 Iowa (14-0 overall, 8-0 Big Ten) returns to action Friday, Feb. 5, against Indiana (6-3, 3-3) with a 7 p.m. (CT) start on Mediacom Mat. Brooks is scheduled to face Hoosiers sophomore Wyatt Wilson (5-11).