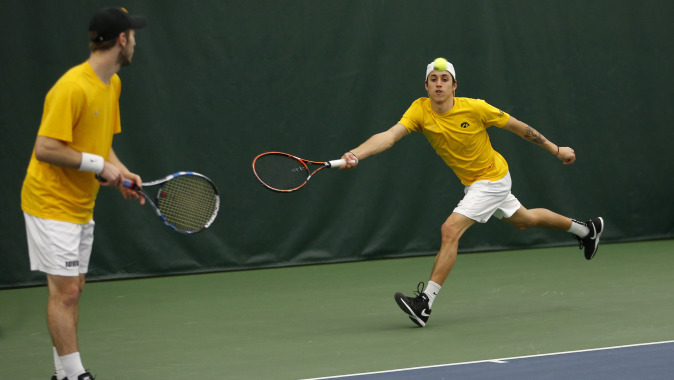 March 4, 2016
DES MOINES, Iowa —The 33rd-ranked University of Iowa men's tennis team was edged by No. 36 Drake, 4-3, at Drake's Roger Knapp Tennis Center.
The visitors started strong with a doubles point victory at No. 1 and No. 2. Sophomores Lefteris Theodorou and Jake Jacoby paired up for No. 1 doubles and senior Dominic Patrick teamed with sophomore Josh Silverstein at No. 2.
"We started off the match really well with doubles, got up a break on number one and two doubles and we were able to carry the momentum and get that first point," said Iowa head coach Ross Wilson.
In singles, Jacoby was the first Hawkeye win off the court. Jacoby defeated Tom Hands, 6-1, 7-5, to tie the match at two.
Theodorou left the court with a three-set victory over Bayo Philips, 6-2, 5-7, 5-2, at No. 2.
"Going into singles, we won three of the first sets," said Wilson. "Lefty ended up pulling out a match in the third set and Jake got a win in two sets. We just didn't play well in a couple spots."
Iowa's last two matches ended in three-set decisions at No. 3 and No. 4 singles.
Junior Robin Haden dropped on court four, 6-7, 6-3, 6-2, and the attention quickly turned to the final match on court three with Silverstein.
"Unfortunately Josh, although he was winning, just couldn't finish," said Wilson.
The New York native was up, 4-2, in the third set but ultimately fell, 7-5, 2-6, 6-4, to Drake's Vinny Gillespie.
"Extremely tough loss for us today. I think the home crowd really helped Drake out at the end of the match but our guys battled and that's what it's about," said Wilson.
"We've got to be able to be comfortable in this environment and pull off a couple wins with matches like this if we want to accomplish our goals this year."
The Hawkeyes are now 7-3 heading into Big Ten play. Iowa is back home March 11 to take on the Nebraska Cornhuskers in its first match of the Big Ten season.
#36 DRAKE 4, #33 IOWA 3
Singles
1. Ben Lott (DU) def. Dominic Patrick (IOWA): 6-3, 6-3
2. Lefteris Theodorou (IOWA) def. Bayo Philips (DU): 6-2, 5-7, 5-2
3. Vinny Gillespie (DU) def. Josh Silverstein (IOWA): 7-5, 2-6, 6-4
4. Calum MacGeoch (DU) def. Robin Haden (IOWA): 6-7, 6-3, 6-2
5. Ben Stride (DU) def. Jonas Larsen (IOWA): 6-3, 6-4
6. Jake Jacoby (IOWA) vs. Tom Hands (DU): 6-1, 7-5
Order of Finish: 1, 5, 6, 2, 4, 3
Doubles
1. Lefteris Theodorou/ Jake Jacoby (IOWA) def. Ben Lott/ Ben Wood (DU): 6-3
2. Dominic Patrick/ Josh Silverstein (IOWA) def. Bayo Philips/ Vinny Gillespie (DU): 6-4
3. Ben Stride/ Calum MacGeoch (DU) def. Nils Hallestrand/ Robin Haden (IOWA): 6-1
Order of Finish: 3, 1, 2