March 7, 2016
2016 All-Big Ten Honorees

IOWA CITY, Iowa — Senior Jarrod Uthoff and junior Peter Jok highlight the University of Iowa All-Big Ten honorees, which were announced Monday evening by the Big Ten Conference.
Uthoff was named a unanimous selection to the first team by both conference head coaches and media, while also being named to the five-player All-Defensive Team by the coaches. Uthoff becomes the first Hawkeye since Andre Woolridge in 1997 to be named a unanimous first team selection. Jok earned second team recognition by both the media and coaches, while seniors Mike Gesell and Adam Woodbury earned honorable mention laurels by the media. Gesell also was also named Iowa's men's basketball Sportsmanship Award recipient for the third consecutive season.
Uthoff, a native of Cedar Rapids, Iowa, ranks second in the Big Ten in scoring (18.8), first in blocked shots (2.7), and tied for 10th in rebounding (6.5). The forward ranks 20th in Iowa career scoring (1,238) and fourth in blocked shots (172). Uthoff (6-foot-9, 221 pounds) has scored in double figures in all but one game this season, including netting 20 points or more a team-best 14 times. The team co-captain is one of only three Hawkeyes in program history to amass 1,000 points and 150 blocks in a career (Acie Earl and Greg Stokes). He currently is one of only two players nationally to total more than 550 points, 190 rebounds, and 80 blocked shots (Stony Brook's Jameel Warney). Additionally, Uthoff is only the second player nationally the last 20 years to average two blocks and two 3-pointers per game (Duke's Shane Battier in 1999-00 and 2000-01).
"I couldn't be happier for Jarrod," said UI head coach Fran McCaffery. "Jarrod has put an incredible amount of time and dedication in the gym that has been reflective in his play on the court this season. He is one of the most versatile players in the country, and earning unanimous first-team accolades and being named to the all-defensive team are prestigious honors."
This marks the third consecutive season an Iowa player has been picked on the All-Big Ten first team; Roy Devyn Marble was honored in 2014 and Aaron White in 2015. The last time the Hawkeyes had first-team all-league honorees in back-to-back-to-back seasons was 1946-48 (Herb Wilkinson in 1946 and 1947, and Murray Wier in 1948). Additionally, Uthoff becomes Iowa's 26th different men's basketball player to earn all-conference first team laurels and the first Hawkeye since Erek Hansen in 2006 to be named to the all-defensive squad.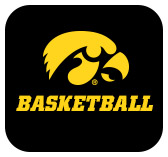 Uthoff, who was named third team All-America earlier Monday by USA Today, helped the Hawkeyes win 12 conference games for the second consecutive season — something that has happened only twice before in program history (1981-82 and 1987-88). Uthoff and the Hawkeyes have been nationally ranked the past 10 weeks, including ascending as high as No. 3 on Jan. 25 — their highest national ranking since 1987. Uthoff is also an outstanding student as well, being named the Division I Men's Basketball Academic All-American of the Year last week.
Jok (6-foot-6, 205 pounds) is Iowa's fifth different all-conference honoree under McCaffery. After averaging seven points per game a season ago, Jok surged 8.8 points this year, averaging 15.8 points contest. The 8.8 improvement is tops among Big Ten players. The Hawkeye guard ranks second on the team and 10th in the league in scoring (15.8), and is first on the team in steals per game (1.4), 3-pointers made (71), and free throw shooting (.856, 83-of-97). Jok enters this week's Big Ten Tournament having made his last 21 consecutive free throws. Jok scored in double figures 22 times as a junior, including tallying 20 points or more 10 times. His 29-point outburst at Rutgers on Jan. 21 ties for the seventh most by a Hawkeye during the Fran McCaffery era.
"Peter has taken his game to an elite level, both offensively and defensively this season," McCaffery said. "Peter is playing with a tremendous amount of confidence, impacting the game in a variety of ways. Being honored as one of the top 10 players in this league as a junior is a remarkable achievement."
Gesell has started all 30 games this season and leads the team with 186 assists, seven shy of the single season record of 193 set by Andre Woolridge in 1996. The native of South Sioux City, Nebraska, is having a career season directing the Hawkeye offense posting career bests in scoring (8.5), rebounds (3.2), assists (6.2), field goal percentage (.412), and 3-point percentage (.375). The four-year starter is one of only three Hawkeyes to ever total 1,000 points, 525 assists, and 150 steals (Dean Oliver and Jeff Horner). Gesell is believed to be the first Hawkeye ever to be credited with 10 or more assists five times in a single season. The 6-foot-2, 190-pound guard is also a scholar in the classroom, earning second-team Academic All-America laurels last week. Gesell is one of only three Hawkeyes to be tabbed a two-time Academic All-America (Luke Recker and Adam Haluska).
"Mike has done a terrific job running our offense and leading by example these past four years," McCaffery said. "Not only does he shine on the court but also in the classroom. We are extremely proud that his accomplishments both on and off the court are recognized. Mike has been an outstanding representative of our program and university."
Woodbury has also been a four-year starter for the Hawkeyes, averaging career bests this season in scoring (7.9), rebounding (8.5), free throw accuracy (.714, 60-of-84), field goal percentage (.574, 89-of-155), assists (1.0), and steals (0.5). The native of Sioux City, Iowa, has posted seven double-doubles this season, which ties for seventh among Big Ten players, and has led the squad in rebounding a team-best 18 times. Woodbury (10.0 rpg) became the first Hawkeye since Reggie Evans (10.7 rpg) in 2001-02 to average 10 or more rebounds during conference competition. He cleared a personal-best 18 rebounds against Wisconsin, the most rebounds of any player in Big Ten play this season. The center has totaled more than 800 points, 725 rebounds, and 100 assists over his four-year career.
"Adam has been a model of consistency the past four years," said McCaffery. "Adam performed at an all-conference level this season and it's gratifying to see him rewarded for his hard work. He is one of the best rebounders in our league, runs the floor, is an excellent communicator and facilitator, and produces offensively. He is without question one of the best all-around big men I have ever coached."
Joining Uthoff on the first team, by both coaches and media, were Denzel Valentine (Michigan State), Yogi Ferrell (Indiana), A.J. Hammons (Purdue), and Nigel Hayes (Wisconsin); Uthoff, Ferrell and Valentine were all unanimous selections by both the media and coaches. Valentine was also named Player of the Year by the coaches and media. Joining Uthoff on the All-Defensive Team were Ferrell, Wisconsin's Ethan Happ, and Rapheal Davis and Hammons of Purdue.
Both the media and coaches named Tom Crean of the Big Ten champion Indiana Hoosiers as Coach of the Year. The coaches selected Purdue center A.J. Hammons as Defensive Player of the Year. Both groups named Happ of Wisconsin as Freshman of the Year, while the conference head coaches voted Indiana's Max Bielfeldt as Sixth Man of the Year.
Iowa (21-9, 12-6) will open play in the Big Ten Tournament on Thursday against either 12th-seeded Illinois or No. 13 seed Minnesota. Game time is approximately 1:30 p.m. (CT) at Bankers Life Fieldhouse in Indianapolis (BTN). Iowa tied Purdue, Maryland, and Wisconsin for third in the Big Ten standings, but will be the No. 5 seed at the tournament. The Hawkeyes have tied for third place each of the past two seasons, marking the first time since 1987-88 that Iowa placed third or better in the Big Ten standings in consecutive seasons.