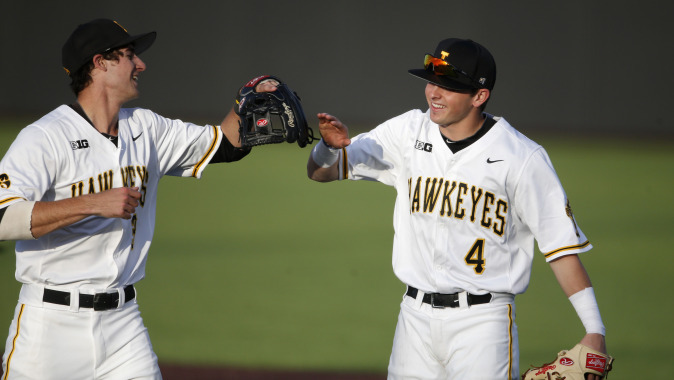 March 10, 2016
Game 1 vs. Omaha
Date | Time
Friday, March 11 | 2:30 p.m. (CT)
Pitching Matchup
IOWA: So., RHP C.J. Eldred (1-0, 1.00 ERA) vs.
OMAHA: Sr., RHP Tyler Fox (2-1, 2.04 ERA)
Game 2 vs. Seton Hall
Date | Time
Saturday, March 12 | 3:30 p.m. (CT)
Pitching Matchup
IOWA: Sr., RHP Tyler Peyton (0-2, 4.82 ERA) vs.
SHU: Fr., LHP Cullen Dana (1-0, 2.45 ERA)
Game 3 vs. Savannah State
Date | Time
Sunday, March 13 | Noon (CT)
Pitching Matchup
IOWA: Sr., RHP Calvin Mathews (0-1, 3.00 ERA) vs.
SSU: Fr., RHP Gregory Hollman (0-1, 5.28 ERA)
Game 4 vs. Point University
Date | Time
Monday, March 14 | 1:30 p.m. (CT)
Pitching Matchup
IOWA: TBA vs.
POINT: TBA
THIS WEEK
The University of Iowa baseball team heads to Emerson, Georgia, for four games at the Spring Swing at LakePointe. The Hawkeyes will face Omaha at 2:30 p.m. (CT) Friday, Seton Hall at 3:30 p.m. Saturday, Savannah State at noon Sunday, and Point University at 1:30 p.m. Monday. All four games will be played at Perfect Game Park South at LakePointe.
GAME COVERAGE
? Iowa's live audio stream of the three games will be available on Hawkeye All-Access. Zach Mackey will be on the call. Steve Duncan or Ray Gilmore will provide color commentary. ? Live statistics will be available at www.hawkeyesports.com and fans can follow the action via Twitter/UIBaseball.
NOTABLES
? Sophomore Austin Guzzo is hitting .833 with five RBIs and six runs scored over his last two games. He has five hits in six at-bats and has a 1.000 slugging and .900 on-base percentage.
? Senior Joel Booker is leading the team with a .359 average with 14 hits in 39 at-bats. The North Carolina native has five doubles; he had 10 extra base hits all of his junior season.
? Booker is also pacing the team with four steals (in four attempts) this season. The outfielder was 9-for-14 in stolen base attempts last season.
? Sophomore Cole McDonald picked up his first career win against Northwestern College, tossing two shutout innings. Shane Ritter, Sam Lizarraga, and Jared Mandel combined for the seven-inning shutout.
OMAHA NOTABLES
? The Mavs have lost three of their last four games to see their record drop to 7-7 overall. UNO split a midweek series at Air Force (W, 12-3, L, 10-18) following a series loss at Grand Canyon last weekend.
? Omaha is hitting .305 as a team and averaging 5.9 runs per game. The team has 32 extra base hits, including seven home runs.
? Seven players are hitting over .300, including Cole Gruber, who paces the team with a .397 average. He has 23 hits, 15 runs, and is 11-of-13 on the base paths. Clayton Taylor is hitting .354 with four home runs, 13 runs, and 22 RBIs.
? The Mavs have struggled on the mound, posting a 6.27 team ERA, allowing 101 runs on 163 hits in 122 innings. The team has 81 strikeouts to 46 walks and opponents are hitting .324.
? Senior RHP Tyler Fox will likely start Friday. He is 2-1 with a 2.04 ERA in three starts, allowing 11 runs (four earned) on 18 hits over 17 2/3 innings. Fox has 13 strikeouts to three walks.
SETON HALL NOTABLES
? The Pirates have won four of their last five games to even their record at 6-6 overall. Seton Hall beat Indiana twice (7-2, 6-4 (10) last weekend and lost 9-3 to Ohio State at the Snowbird Classic.
? Seton Hall is hitting .266 as a team and is averaging 4.2 runs per game. Five Pirate players are hitting above .300 with Mikael-Ali Moques leading the team with a .375 average with eight runs, five doubles, and eight RBIs.
? The Pirates, who have a 4.63 team ERA, will start freshman LHP Cullen Dana, who is 1-0 with a 2.45 ERA in two starts. He has allowed three runs on four hits in 11 innings and has 11 strikeouts to four walks.
SAVANNAH STATE NOTABLES
? The Tigers are 4-10 overall.
? Savannah State is hitting .247 as a team and average 4.4 runs per game. The Tigers have two players hitting above .300 in Mendez Elder (.365) and Jonathan Moore (.324). Elder has a team-best seven doubles, 11 runs, and 10 RBIs.
? The Tigers, who have a 6.66 team ERA, have allowed 148 hits over 119 innings and have 81 walks to 72 strikeouts. Opponents are hitting .306 against the staff.
? RHP Greg Holman will start against Iowa. He is 0-1 with a 5.28 ERA, allowing five runs on seven hits over eight innings in three starts.
POINT NOTABLES
? The Skyhawks, an NAIA team in West Point, Georgia, are 7-12 overall, losers of three of their last four contests.
? Point is hitting .249 as a team and is averaging 4.7 runs per game. Nathan Greene leads the team with a .356 average with 14 runs and seven RBIs. Christian Cabral has a team-best 12 RBIs and two home runs.
? The Skyhawks have a 4.11 team ERA, allowing 145 hits and 103 runs (65 earned) over 142 1/3 innings.
SERIES RECORD
? Iowa leads the all-time series over Nebraska-Omaha, 7-4. The Hawkeyes last faced the Mavericks in 2014, winning 7-1 in Port Charlotte.
? The Hawkeyes are 0-1 all-time against Seton Hall, dropping a 2-0 decision during the 2011 season in St. Petersburg, Florida.
? Iowa has never faced Savannah State or Point University.
BREAKING DOWN 28-0
Iowa opened its 2016 home schedule with a 28-0 blasting of Northwestern College on March 8 at Banks Field. The 28 runs are the second-most in a single game in school history.
? All nine starters and 11 players tallied an RBI in the game. Iowa had 24 RBIs among the 28 runs.
? Nine different players tallied a hit, eight posted multi-hit games, and 13 different players scored at least one run. Iowa drew 11 walks in the contest.
IN THE B1G
? Iowa is second in the Big Ten with 64 runs scored and has the fifth-best on-base percentage (.375) and fifth-most RBIs (57). The Hawkeyes lead the conference in walks (52).
? Senior Nick Roscetti is tied for third in runs scored (11) and Booker is tied for sixth with four steals.
SOPHOMORE C.J. Eldred…
? has been Iowa's most consistent pitcher, going 1-0 with a 1.00 ERA in three appearances (two starts). Eldred ranks sixth in the Big Ten in ERA and second in opposing batting average (.129).
? recorded a quality start at Southern Illinois, throwing nine innings of two-hit, one run ball. He had a no-hitter through 7 2/3 innings, but wasn't involved in the decision.
? picked up his first career win against Dartmouth, allowing one run on four hits over five innings, fanning five.
? sat out the 2015 season after transferring from Indiana University, where he redshirted in 2014.
? is the son of former Hawkeye first round MLB Draft pick and Major Leaguer Cal Eldred.
SENIOR Tyler Peyton…
? logged a quality start at Dallas Baptist, going 6 1/3 innings, scattering two hits, and striking out six. Both runs were unearned, as he took the loss.
? is expected to take the ball in game two this weekend against Seton Hall.
? did not pitch at Southern Illinois due to forearm tightness.
? is 12-7 in his Iowa career with a 3.89 ERA in 32 starts. Peyton has 15 quality starts and has pitched into the seventh inning 14 times in his career.
? has logged 180 1/3 innings in two-plus seasons, where he has 126 strikeouts to 59 walks.
? earned third-team All-America honors by D1Baseball.com and the USBWA as a junior.
? has the best change-up in the Big Ten Conference according to Baseball America.
SENIOR Calvin Mathews…
? is 10-12 with a 3.09 ERA in 42 appearances (38 starts). He has logged 198 1/3 innings, allowing 179 hits, striking out 138 strikeouts to 60 walks.
TEAM CAPTAINS
Seniors Jimmy Frankos, Calvin Mathews, Tyler Radtke, and Nick Roscetti are the team captains for the 2016 season. Radtke is in his second season as team captain.
FOLLOW THE HAWKEYES
Iowa baseball fans can follow the Hawkeyes on Facebook/iowabaseball, Twitter: @UIBaseball, and Instagram/UIBaseball in addition to coverage on hawkeyesports.com.