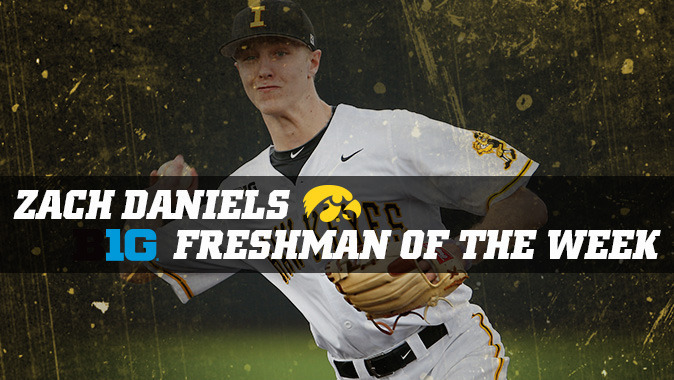 March 14, 2016
IOWA CITY, Iowa — University of Iowa infielder/pitcher Zach Daniels has been named the Big Ten Freshman of the Week, the league office announce Monday. It is Daniels' first career honor.
The Robins, Iowa, native earned the distinction after hitting .571 with five RBIs and three runs scored in a pair of Hawkeye victories last week. In his first career start, Daniels finished 1-for-3 with a run and four RBIs in Iowa's 28-0 victory over Northwestern College. The run total was the second-most in program history.
Daniels' bat stayed hot against Savannah State, where he finished 3-for-4 with two runs and an RBI. The three hits were a career-high. The right-handed pitcher also made one appearance on the mound, tossing one scoreless inning against Omaha. He gave up one hit and struck out a pair in a 3-2 Iowa loss.
For the season, Daniels is hitting .400 (4-for-10) with six RBIs and three runs scored with a .500 slugging and .455 on-base percentage. As a reliever, he is 0-1 with a 1.93 ERA, striking out five in 4 2/3 innings.
Daniels is the first Hawkeye to earn Freshman of the Week honors since Sasha Kuebel in 2012.
Iowa is in the midst of closing out play at the Spring Swing at LakePointe. The Hawkeyes head to Springfield, Missouri, from March 18-20 for an NCAA Regional rematch against Missouri State from March 18-20.