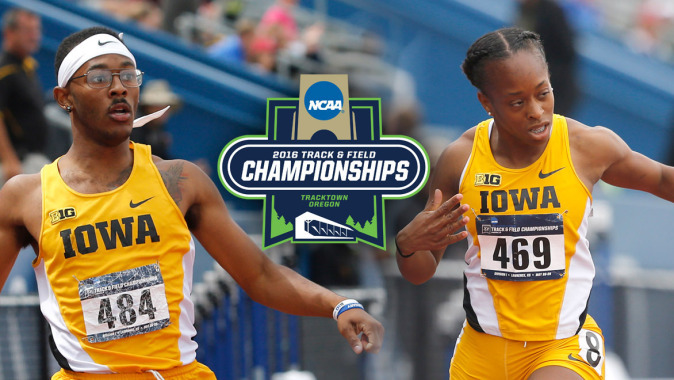 June 1, 2016
Editor's Note: The following first appeared in the University of Iowa's Hawk Talk Daily, an e-newsletter that offers a daily look at the Iowa Hawkeyes, delivered free each morning to thousands of fans of the Hawkeyes worldwide. To receive daily news from the Iowa Hawkeyes, sign up HERE.
By DARREN MILLER
hawkeyesports.com
IOWA CITY, Iowa — Two University of Iowa 400-meter runners mocked the notion of a psychological barrier to competing in lane 8 by winning heat races May 27 at the NCAA West Preliminary in Lawrence, Kansas.
Junior Elexis Guster and freshman Mar'yea Harris both advanced to the NCAA Outdoor Track & Field Championships in Eugene, Oregon, by coming out on top in 400 quarterfinals, despite being in what many runners consider a less-than-ideal starting position.
In lane 8 you only see the runner in the ninth lane, therefore there is no one to "chase." You don't have a true understanding of where the rest of the field is until entering the homestretch with 100 meters to go. None of that mattered to Guster and Harris, who within minutes Friday, became the first two Hawkeyes to qualify for Eugene.
"I'm satisfied with the time (of 52.80 seconds)," Guster said. "I just wanted to make it to Oregon so it doesn't really matter, just getting that top spot."
There was a wrinkle to this year's national finals qualifying procedure. Because of multiple weather delays May 26, the NCAA West Preliminary was shortened to a two-day event. Instead of running first-round races to advance to quarterfinals, all events became quarterfinals with one — and only one — race determining who moved on. The meet also began in the morning instead of its traditional afternoon start.
"I usually run better on Day 2, so having just one time to run was different to deal with and it's early in the morning," Guster said.
| | |
| --- | --- |
| | "A major key that helps me succeed is two days before the meet I eat a bag of Sour Patch watermelons." |
Guster has experience running in a national semifinal. Ironically, she was in lane eight last season in Eugene, where she placed 21st overall in 53.70, to become honorable mention All-America.
"I know last year when I was at Oregon I had lane 8 and I was kind of scared to run in it," Guster said. "Now I proved I can run in lane 8."
Guster has the sixth-fastest qualifying time from the West Preliminary. Her personal record is 51.85.
At this time last year, while Guster was competing in an outdoor national championship, the ink had barley dried on Harris' diploma from Woodrow Wilson High School in Long Beach, California. A two-time state high school champion, Harris is looking for similar success at the Division I national level.
"I came into college worried I wasn't going to succeed the way I wanted to," Harris said. "But coming here and being able to be at the top — one of the fastest freshmen in the nation — and being able to achieve my goal of making it to nationals, feels great. I feel accomplished."
Harris turned in the fourth-fastest qualifying time from Lawrence in 46.16 (his personal record is 45.76). Baylor freshman Wil London had the top time in 45.84.
"I knew I had some fast people behind me. I had (Texas junior) Aldrich Bailey, (Texas A&M junior) Deon Hickey and I had a fast guy in front of me (Stephen F. Austin sophomore My'Lik Kerley). I had to get out and catch the guy in front of me. Once I got to the 200 mark and I broke the stagger a little bit on lane 9, I kept pumping my arms, stayed focused, looked at the finish line, kept my knees up, and knew I would be alright."
After the heat victory, Harris was eager to reveal his dietary training secret. It wasn't a particular sport drink or nutrition bar, but rather a sack of soft and chewy candy treats.
"A major key that helps me succeed is two days before the meet I eat a bag of Sour Patch watermelons," Harris said with a smile.
The Hawkeyes qualified a school-record 13 events for the NCAA Championships from June 8-11 at Hayward Field. That list includes eight individual running events, three relays, and two field events.
The 400-meter semifinal including Harris will be contested June 8 at 4 p.m. (CT) with the final being held June 10 at 4:32. Guster's semifinal is June 9 at 4 p.m. with the final scheduled for June 11 at 2:32.