24 Hawkeyes to Watch 2016-17 | Purchase Single-Game Tickets | 2016 Iowa Football Schedule | Ferentz Transcript – July 26 | 2016 Big Ten Media Day
Editor's Note: The following first appeared in the University of Iowa's Hawk Talk Daily, an e-newsletter that offers a daily look at the Iowa Hawkeyes, delivered free each morning to thousands of fans of the Hawkeyes worldwide. To receive daily news from the Iowa Hawkeyes, sign up HERE.
By DARREN MILLER
hawkeyesports.com
CHICAGO — There wasn't much noteworthy happening for the University of Iowa football team during the waning moments of the 2015 TaxSlayer Bowl. The Hawkeyes trailed Tennessee, 42-7, in the fourth quarter and their outcome was sealed.
 
But every time UI head coach Kirk Ferentz surveyed the Hawkeye defense, freshman linebacker Josey Jewell stood out. He finished with 14 tackles and was named Iowa's TaxSlayer Bowl most valuable player.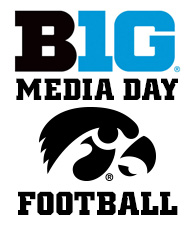 "We had clearly fallen behind and there was nobody on the field working harder than Josey Jewell. I thought that was impressive," Ferentz said. "It was his first year on the field and that snapshot told me that great things were ahead. To see the effort and tempo he was playing with in a dire circumstance is Josey in a nutshell."
 
That pace increased last season as a sophomore. Jewell made a team-high 126 tackles, 7 ½ for a loss, and added four interceptions, including one in the 2016 Rose Bowl Game. He was named second team All-Big Ten Conference and became the first sophomore team captain in school history.
 
"Because of the way he operates — not only the way he plays on the field or practices, but what he does behind the scenes — he is so respected," Ferentz said. "That explains why he is the first sophomore captain we have ever had. Our players vote on that and he didn't limp to the finish line, it was an overwhelming choice."
 
It seems far-fetched now, but instead of terrorizing offenses in a Power 5 conference, Jewell nearly suited up for Division III Luther College in Decorah, Iowa. He graduated from Decorah High School, his mother and three siblings attended Luther, and until two weeks before Signing Day in 2013 he had no scholarship offers for more than textbooks.
 
So when UI assistant coach Reese Morgan extended a full-ride, Jewell called it a dream come true. As a seventh-grader he envisioned playing for the Hawkeyes and that desire intensified when he was elevated to varsity football as a high school sophomore.
 
The two-time first-team all-state performer led Decorah to back-to-back Class 3A championship football games and the 2012 title with a perfect 14-0 record. He was a four-sport athlete.
 
"At the time I didn't think I was that good and I didn't know what I was going to do," Jewell said. "I wasn't too highly rated out of high school and sometimes that happens I guess. I ended up here and I'm glad about it."
 
Attending the UI allowed Jewell to follow his Hawkeye role models Pat Angerer, Chad Greenway, Dallas Clark, and fellow Decorah native Brett Van Sloten.
 
Jewell has started 18 consecutive games for Iowa, beginning with a 30-14 win at Illinois in 2014. He recorded a career-high 15 tackles (and 11 solos) during a 35-27 victory at Indiana last season. Jewell is a member of the UI football team's Leadership Group for a third consecutive season.
 
"I try to lead by example because I'm not a big verbal guy who yells at people," Jewell said. "I like to show people how I do my daily stuff — if it works for them, they can follow and try to do those daily disciplines."
 
Jewell's eye-opening second half performance in the 2015 TaxSlayer Bowl validated what he was made of to coaches. It assured Jewell that he belonged in the starting lineup of an elite Division I program and it left him thirsting for more.
 
"From that point on I knew I could contribute to the team, but that would only come if I put in my full effort, gave 100 percent every day, and stayed focused and accountable," he said.
 
Jewell has continued to provide noteworthy efforts since.