Hawkeye Fan Shop — A Black & Gold Store | 24 Hawkeyes to Watch 2016-17 | Purchase Single-Game Tickets | 2016 Football Fall Camp Central
Editor's Note: The following first appeared in the University of Iowa's Hawk Talk Daily, an e-newsletter that offers a daily look at the Iowa Hawkeyes, delivered free each morning to thousands of fans of the Hawkeyes worldwide. To receive daily news from the Iowa Hawkeyes, sign up HERE.
By DARREN MILLER
hawkeyesports.com
IOWA CITY, Iowa — Imagine being an opposing quarterback on the University of Iowa's 2016 football schedule.
 
Moments before snapping the ball, you glance left and see cornerback Desmond King, the reigning Jim Thorpe Award winner for being nation's top defensive back. You don't want anything to do with him, so you look right and see Greg Mabin, another senior who stands three inches taller than King at 6-feet-2.
 
"Our goal is to be the top cornerbacks in the nation," King said.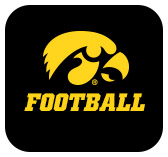 Last season the pair combined for 126 tackles, 21 pass breakups, and 10 interceptions. While King held the upper hand in all three categories, the continued improvement of Mabin gives the Hawkeyes an imposing secondary.
 
Mabin was in on nine tackles (seven solo) with an interception during a 28-20 win at Nebraska on Nov. 27 that clinched Iowa's 12-0 regular season. He made eight stops in the Big Ten Conference Championship against Michigan State.
 
Mabin is from Fort Lauderdale, Florida, and during his final three seasons at Calvary Christian Academy, he caught 153 passes for 2,877 yards and 37 touchdowns. But before he came to Iowa as a wide receiver in 2012, his high school coach told him to prepare for life as a defender.
 
"I wanted to play receiver, but in the back of my mind I had a feeling the change was going to come," Mabin said. "When it happened, I took it on full force and tried to make the best of it."
 
Mabin's quickness is coveted on either side of the ball. King says Mabin's long frame and arms, recovery speed, and proficient man-to-man coverage makes him an ideal cornerback.
 
As a Hawkeye, Mabin teetered from receiver to cornerback and back to receiver before finally finding a permanent home at cornerback. He saw no action as a redshirt freshman in 2013, but made his first start against Northern Iowa on Aug. 31, 2014. Mabin returned an interception for 18 yards on the game's final possession.
 
"He had to accept the fact he was going from wide receiver where everybody touches the ball to defending every play," UI defensive coordinator Phil Parker said. "He bought into it and he has done a good job."
 
And every time Mabin steps on the field, more growth is seen.
 
Mabin has made 22 consecutive starts and as a junior he made 54 tackles (37 solo) with eight pass breakups and two interceptions. He is working his way back onto the practice field after undergoing a shoulder procedure and missing spring ball.
 
"The hardest part was the mental aspect and understanding defenses and coverages," Mabin said. "Being able to use my athleticism and knowing how to make reads and cut as quickly as you have to do as a cornerback — it is tough and it is a hard adjustment."
 
There are many quality defensive backs in the Big Ten. All four of the 2015 first-team defensive backs (selected by coaches) return in Maryland's Will Likely, Michigan's Jourdan Lewis and Jabrill Peppers, and King. King was named Tatum-Woodson Defensive Back of the Year.
 
"I see it as a privilege and great honor to be playing with the certified, best defensive back in the country," Mabin said of King. "He earned that award through his preparation and work ethic and I got to see first-hand what it takes to be that caliber of a player."
 
King credits Mabin for helping him improve by the way they critique film of each other.
 
"We find our weaknesses and strengthen them together," King said.
 
Mabin is flattered by kind words being spoken and written about the Hawkeye cornerbacks. But he understands that accolades in December mean much more than those in August.
 
"Everyone has to perform in the season, then we'll see who is the best," Mabin said.
 
Iowa holds its fourth practice of fall camp Sunday. The opening game is Sept. 3 against Miami (Ohio) inside Kinnick Stadium. For tickets, click HERE.