By DARREN MILLER
hawkeyesports.com
IOWA CITY, Iowa — Aggressive defensive play led to three take-aways Sept. 3 that the University of Iowa football team converted into 21 points.
 
High on the Hawkeye "To-Do" list this week is to improve their run defense.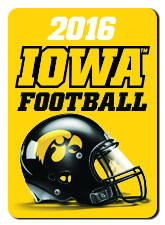 UI head coach Kirk Ferentz met with hawkeyesports.com Sunday to summarize the program's 15th season-opening victory in the last 16 seasons and look ahead to rivalry week against Iowa State.
 
"The first thing I would touch on would be the take-aways," Ferentz said of Iowa's 45-21 victory over Miami (Ohio). "We had three take-aways — good, aggressive plays and the offense did a good job of converting those.
 
"There were a lot of good things defensively: we played hard and aggressively. Now we want to eliminate those big plays — they hurt you in any ball game. We let (Miami) run the ball better than we like. Like every game, you have something to work on the next week and those will be things to focus on this week, especially the rush game defense."
 
Iowa won its 13th regular season game in a row but the Redhawks gained 424 yards, with 158 coming on 41 run attempts.
 
The Hawkeyes were without junior middle linebacker Josey Jewell who was ejected for targeting on the sixth play of the game. He will be able to play the entire game against the Cyclones.  
 
"I don't think it was a malicious play at all, just Josey playing aggressively," Ferentz said. "It was an impressive play; he was trying to block the punt, so he was actually rushing the punt, then circled back and hustled downfield, so it was a great hustle play, but unfortunately it was a bang-bang deal. The good news is he will back full status with us this week."
 
Ferentz spoke of veteran players getting off to a good start, including senior quarterback C.J. Beathard (13-of-20 passing for 192 yards and a touchdown) and senior cornerback Desmond King (five tackles, 85 return yards). He also praised the running back duo of Akrum Wadley and LeShun Daniels, Jr., that combined for 204 yards and four touchdowns.
 
"Guys like Akrum — who has been playing a big role — I can see him playing a bigger role now," Ferentz said. "He had a big day (Saturday)."
 
Wadley ran the ball 12 times for 121 yards and two touchdowns. It was his fourth career 100-yard rushing game and his second career multi-touchdown game.
 
There was also production for youngsters like sophomore wide receiver Jerminic Smith and freshman defensive end Anthony Nelson. Smith caught three passes for 51 yards and a touchdown; Nelson made six tackles with 2 ½ sacks, and two forced fumbles.
 
Up next for Iowa is a night game against Iowa State. It will be the second consecutive intrastate rivalry game for the Cyclones, who are coming off a 25-20 loss to Northern Iowa.
 
"It is good for the entire state of Iowa," Ferentz said. "Our state has such tremendous football if you think about not only Iowa and Iowa State, but UNI and the many great Division III programs."
 
An electric environment is expected.
 
"Any time you have a night game in Kinnick, that's special," Ferentz said. "It will be a festive and lively. We're excited about kickoff; certainly we'll have a lot of work to do between now and then — that's where our focus will be."
 
The Hawkeyes won last season in Ames, 31-17, giving the visiting team in the series four straight victories.
 
Kickoff is scheduled for 6:30 p.m. (CT).