Hawkeye Fan Shop — A Black & Gold Store | 24 Hawkeyes to Watch
Editor's Note: The following first appeared in the University of Iowa's Hawk Talk Daily, an e-newsletter that offers a daily look at the Iowa Hawkeyes, delivered free each morning to thousands of fans of the Hawkeyes worldwide. To receive daily news from the Iowa Hawkeyes, sign up HERE.
By MATTHEW WEITZEL
hawkeyesports.com
IOWA CITY, Iowa — Katie Birch traveled 4,000 miles to play the game she loves and receive an education in athletic training at the University of Iowa. The freshman field hockey standout is off to a tremendous start and is loving every minute of it.
 
For some, the transition from one country to another would take some time, but Birch has settled in and made an immediate impact for the Hawkeyes.
 
"My teammates helped me make the transition from England to Iowa so easy," said Birch. "It hasn't been a challenge for me. I feel like we have come together and the team bonding we have established will be beneficial this season."
 
The hardest part of the move for Birch is having to be separated from her twin sister, Rebecca, who is a defender at Old Dominion.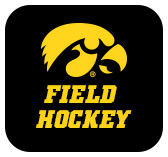 "It's tough, but we Skype or text pretty much every day," said Birch. "After every game we talk about how we played."
 
UI head coach Lisa Cellucci, who is in her 17th season on the Iowa coaching staff, said of all the international field hockey players who have played for the Hawkeyes, she believes Birch has had the smoothest transition.
 
"I believe that is because she played a high level of international hockey the last couple summers," said Cellucci. "Katie came in fit and prepared, which set her apart right away."
 
Birch anchors Iowa's defense in the center of the field. The York, England, native is tied for the team lead in goals (four) and ranks second on the team in points (nine) and shots (16). She was named Big Ten Freshman of the Week after leading the Hawkeyes to a 2-1 win over No. 7 Wake Forest on Aug. 27.
 
On Sept.4, Birch tallied a hat trick in a win over Saint Louis.
 
"She has outstanding fundamental skills, great awareness, anticipation, and game sense," said Cellucci. "Her ability to distribute the ball is outstanding. She knows how to reposition and set up her other midfielders and defenders."
 
Birch credits senior Chandler Ackers in providing guidance, encouragement, and knowledge of the sport since arriving to Iowa City.
 
"Chandler has been such a role model for me," said Birch. "After matches, we sit and talk about what I can improve on. She is so incredibly helpful."
 
Ackers says Birch not only adds value to the team on the field due to her defensive presence and abilities, but off the field as well with her demeanor.
 
"She has one of the best personalities on the team," said Ackers "It's awesome to have her on the team; she is always smiling, which is what I love about her."
 
Birch, who followed in her father's footsteps and starting playing hockey at the age of seven, embraces the responsibility of helping protect Iowa's goal.
 
"It's comforting to know your teammates and coaches have faith in you to be the last line of defense," said Birch. "I take pride in that."
 
Birch has proved her worth to the defense as Iowa has allowed one goal or fewer in three of its four matches.