Parker Kress Video | Kid Captain Home Page
 
By CATIE MALOOLY
 
IOWA CITY, Iowa — In December 2014, then 13-year-old Parker Kress experienced pain in his right ankle and swelling in his calf. He was taken to a local emergency room where an ultrasound found a mass on his ankle.
 
Parker was referred to University of Iowa Children's Hospital to meet with pediatric specialists. After biopsies of his bone marrow and the tumor, Parker and his family were given a life-changing diagnosis: Ewing's sarcoma, an aggressive and rare form of childhood bone cancer.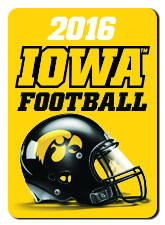 "I felt terrified. It's kind of like you go through a grieving process," says his mother, Kristin Dumser. "At first, I was in complete denial. Parker had always been so active and healthy."
 
Despite the scary diagnosis, Parker showed maturity.
 
"The first question he had was, 'Am I going to die?'" remembers Kristin. "But he snapped out of it almost immediately and said, 'I'm going to fight this, and I'm going to beat it.'"
 
Parker underwent four months of chemotherapy before his tumor — which he named Leonardo — was surgically removed in April, 2015. Five inches of his tibia were replaced by bone from a donor, and the growth plate in his left leg was removed to keep his legs the same length.
 
Parker has a close relationship with his care team, including orthopedic and oncology specialist Benjamin Miller, M.D.
 
"The doctors are so knowledgeable and the nurses are so caring. They will be an advocate for your child," says Kristin. "[Dr. Miller] told Parker, 'We're going to be friends for a long time,' and they are."
 
Parker's positive attitude has helped him through treatment.
 
"It's been a roller coaster," says Parker. "There have been ups and downs, happiness, sadness, small wins and small losses, or big wins or big losses."
 
While still undergoing treatment, Parker faced one of those big losses. His friend, Tori, who was the same age and was also being cared for at UI Children's Hospital for Ewing's sarcoma, passed away.
 
"She was different. She wasn't afraid to be herself," remembers Parker. "I've learned that you can't take friendships for granted."
 
Parker delayed his treatment to be an honorary pallbearer at Tori's funeral.
 
"To see him walk next to her casket at the cemetery on crutches, it's something I'll never forget," says Kristin. "It just shows how strong these kids are."
 
Parker has undergone six surgeries, 17 rounds of chemotherapy, and blood and platelet transfusions. He has worn seven casts, spent eight months on crutches, and has taken more than 700 pills. Ewing's sarcoma has a high recurrence rate, so he returns for scans.
 
"Usually when it comes back, it comes back in the lungs, and treatment options get fewer and farther between, and it's harder to cure," explains Kristin.
 
Currently, only four percent of federal funding is solely dedicated to childhood cancer research.
 
"He wants to be a childhood cancer advocate. He wants to raise awareness and encourage people to donate for research," says Kristin.
 
Parker is grateful to everyone who has been by his side throughout his journey.
 
 "The children's hospital will always have a special place in my heart," he says. "It's an amazing place."