MINNEAPOLIS – The University of Iowa men's golf team finished in solo seventh at the 12th annual Gopher Invitational. The Hawkeyes recorded a 293 total for the final 18 holes Sunday afternoon at the Windsong Farm Golf Club.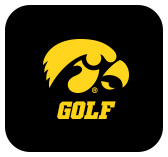 "I am proud of the way we fought today," said UI head coach Tyler Stith. "The wind blew 20-25 mph most of the day making every shot and decision more difficult. We moved up a spot and more importantly picked up some quality wins over NCAA tournamnet teams."
Senior Raymond Knoll finished in fourth place after firing a third round 73, finishing at 213 overall. Sophomore Matthew Walker finished two strokes behind Knoll at 215, putting him in a tie for seventh overall.
"Raymond played fantastic and gave himself a chance to win on the back nine," said Stith. "He battled back after a triple bogey in the first round. He will learn from this experience and have plenty more opportunities. Matthew was solid all three rounds. When he manages the course well and controls his speed he's tough to beat. I expect to see him contending very soon."
 
Senior Carson Schaake finished up with a 79 on Sunday, for a three-day total of 226 and locking up a tie for 44th.
 
Freshmen Ryoto Furuya and Jack Simpson competed in their first tournament as Hawkeyes, finishing within one stroke of each other at 230 and 231, respectively.
"I'm happy for Jack and Ryoto to play in their first college event," added Stith. "They both stepped up today and gave us two solid rounds."
 
Competing in the individual category of the Gopher Invite, Sam Meuret shined at Pioneer Creek Golf Course, finishing in a tie for third and carded a three-day total of 214 (-2).
 
Freshman Benton Weinberg gained experience as an Iowa golfer, finishing tied for 22nd as an individual with a three-day total of 230.  
 
The Hawkeyes return to action Sept. 25 and 26 at the Windon Memorial Classic, hosted by Northwestern in Chicago.