MINNEAPOLIS – Senior Raymond Knoll led the University of Iowa men's golf team in the opening two rounds of the Gopher Invitational on Sept. 10 at the Windsong Farm Golf Club.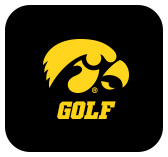 After 36 holes of competition, Iowa is currently in eighth-place (two-round 586; +18).
 
"The guys worked hard out there today," said UI head coach Tyler Stith. "The greens are faster than we are used to and gave us trouble."
 
Knoll led the way for the Hawkeyes, posting a two-round 140 (-2). The senior carded a first round score of one-over-par 72, highlighted with six birdies. Knoll carried that good play over into the second round of the tournament, posting a three-under-par 68 for the second 18. He is currently tied for second overall.
 
Sophomore Matthew Walker followed behind Knoll posting a two-round total of two-over-par 144. Walker is tied for 16th.
 
Freshmen Jack Simpson and Ryoto Furuya finished the day with a two-round 156 (+14) and senior Carson Schaake fired a two-round 147 (+5), currently sitting in a tie for 34th.
 
Junior Sam Meuret and freshman Benton Weinberg are competing in the individual category of the Gopher Invite at Pioneer Creek Golf Course. Meuret fired a two-round total of 141 (-3), he sits one shot back behind Bjarki Petursson of Kent State and Brian Song of San Diego State in third place. Weinberg carded a two-round total of 156 (+12).
 
"We need to stay patient, be disciplined and post a good number tomorrow," said Stith.
 
San Diego State is leading the Gopher Invitational with a two-round total of 571.
 
The Gopher Invitational continues tomorrow with tee times starting at 7:30 a.m. (CT).