BOULDER, Colo. — Three goals in the first half and one in the second propelled Colorado to a 4-1 victory over the University of Iowa soccer team Sunday afternoon at Prentup Field.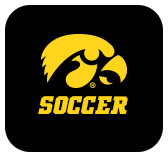 "Today was a good lesson for our young team in that there is a certain level of mental preparation needed to win games against high level teams," said UI head coach Dave DiIanni. "Unfortunately, we came up quite flat in the first half. Giving up goals in the first and last five minutes of the first half were momentum killers for us."
 
Colorado controlled the first half and it jumped out to a 2-0 lead when Emily Bruder scored goals in the third and 20th minute.  The Buffs stretched their lead to 3-0 in the 40th minute courtesy of a strike from Kahila Hogg. 
 
Trailing 3-0, the Hawkeyes fought back in the second half. Freshman Olivia Fiegel put Iowa on the scoreboard with a goal in the 55th minute. Senior Bri Toelle was credited with the assist. The goal was Fiegel's second of the season and second in as many games. 
 
Colorado added an insurance goal off a breakaway in the 65th minute on a strike from Camilla Colo.  It finished off the Buff's fifth win of the season.   
 
"I was happy with our effort and competitive spirit to start the second half," added DiIanni. "We were much more difficult to play against, but also created a goal and many other chances. We will get better from this experience there's no doubt about it and we will come back next weekend a better team."
 
Iowa (6-2-0) opens Big Ten play next weekend, hosting Michigan on Friday night at 7 p.m. (CT) at the Iowa Soccer Complex.