Hawkeye Fan Shop — A Black & Gold Store | 24 Hawkeyes to Watch 2016-17 | Hawkeyes in the NFL | Hawk Talk Monthly — September 2016 | Ferentz News Conference Transcript (PDF)
By JAMES ALLAN
hawkeyesports.com
IOWA CITY, Iowa — University of Iowa head coach Kirk Ferentz is focusing on the makeables heading into Saturday's Big Ten opener at Rutgers.
 
The Hawkeyes travel to Piscataway, New Jersey, for the first time in program history, facing the Scarlet Knights at High Point Solutions Stadium for an 11:01 a.m. (CT) kickoff.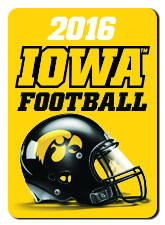 "The most glaring thing in my mind is we're not doing well with the makeables," Ferentz said during his Tuesday news conference in the Stew and LeNore Hansen Football Performance Center. "Makeables to me are plays that you should be able to execute without have a superstar player.
 
"Offensively and defensively, we had little things add up to big things (against North Dakota State). That's the story of football, especially in close games."
 
Ferentz said the Hawkeyes played clean football — probably cleaner than one would expect coming out of fall camp — in victories over Miami (Ohio) and Iowa State.  That wasn't the case against the Bison in a 23-21 defeat.
 
"If you look at the first plays offensively of the first and second half, there are two plays out there, but I can probably give you a list of 20 of them, unfortunately," he said.  "We'll push on right now and move on to the next game."
 
That involves a meeting against a Rutgers team that has Big Ten influence. First-year head coach Chris Ash — an Ottumwa, Iowa, native — was defensive coordinator at Ohio State the past two seasons. He leads a Scarlet Knights' team that is 2-1 following home victories over Howard (52-14) and New Mexico (37-28).
 
"There's a lot of influence or resemblance for good reason," said Ferentz. "Chris did a great job (at Ohio State), so you're seeing a lot of carry over.  Then coach (Tom) Herman, who's at Houston, they were together at Ohio State.  It's not a carbon copy of what they're doing offensively, but there is a lot of influence there, too."
 
Rutgers is averaging 388.7 yards and 34 points per game with Chris Laviano directing the offense.  He is 46-of-89 for 457 yards and four touchdowns.  The Scarlet Knights defense surrenders 365 yards and 30 points per contest.
 
"They're playing with a good attitude, playing hard, and doing the things you have to do to be successful," said Ferentz. "They have a lot of guys that can play well."
 
Ferentz anticipates the Hawkeyes being back to full strength on the offensive line with junior Sean Welsh and sophomore James Daniels set to return to their starting positions, but he says the rest of the cavalry needs to be ready at a moment's notice.
 
"I expect them back, but the next time somebody gets hurt, then somebody has to step in there because the cavalry is not coming," said Ferentz. "We have our team, it's set. It is for everybody right now, we have to get better.
 
"Historically, September is a big month for us.  You can go back and look in the history books, what we do in September, how we grow and improve — not that you don't want to continue that in October and November — but if we're not growing in September, that's a bad sign."
 
Ferentz will be coaching his second team at Rutgers. He took his Maine team to Piscataway in 1991 — a 40-17 defeat.
 
Saturday's game will be televised on ESPN2 with Beth Mowins, Anthony Becht, and Rocky Boiman on the call.