Hawkeye Fan Shop — A Black & Gold Store | 24 Hawkeyes to Watch 2016-17 | Hawk Talk Monthly — September 2016 | Buy Northwestern Tickets
By DARREN MILLER
hawkeyesports.com
IOWA CITY, Iowa — Twenty-one games is a long time, especially in college football where single seasons cap at 15 contests. Hawkeye fans have to look back 21 games to Nov. 15, 2014, for the last time a University of Iowa football team rebounded with a victory following a regular season defeat.
 
The situations between then and now are similar: In 2014, the Hawkeyes thumped Northwestern at home by 41 points, but were humbled a week later at Minnesota, 51-14. In 2016, the Hawkeyes thumped Iowa State by 39, but were beaten a week later by a 37-yard field goal as time expired.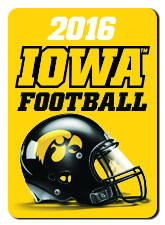 How did Iowa respond on Nov. 15, 2014? The Hawkeyes went on the road and handed it to Illinois, 30-14. The next chapter in 2016 will be written Saturday when Iowa opens Big Ten Conference play at Rutgers. Kickoff is set for 11:01 a.m. (CT).
 
"We have a good team here for sure," said UI senior cornerback Desmond King. "We have guys that can make plays and leaders who can lead this team. We're not going to let this loss hold us back; we're going to move forward and learn from our mistakes."
 
King shares the team lead with 10 solo tackles and his forced fumble in the third quarter against North Dakota State was a hustle play worthy of any highlight reel.
 
UI seniors King and wide receiver Matt VandeBerg have been through 29 wins with the Hawkeyes, but they also know what it takes to move on after 14 losses. The 24-hour rule following the 23-21 loss to North Dakota State expired at 2:06 p.m. on Sunday, Sept. 18.
 
"Win or lose we're going to move onto the next opponent no matter what the results are and that's what we do," King said. "We're not going to dwell on the loss. The only good thing out of a loss is learning from what you did in the game and we're going to move onto the next week."
 
VandeBerg caught four more passes Sept. 17 — and two more touchdowns — increasing his season totals to 15 and three, respectively.
 
"In any game there are always correctable things," VandeBerg said. "We need to get back to fundamental football of being able to run the ball, pass the ball, and tackle."
 
Rewinding to 2014 in Champaign, Illinois, King had two tackles and a pass breakup and a relatively unknown quarterback named C.J. Beathard competed all three of his pass attempts for 73 yards.
 
"It's early, we're starting Big Ten play this week and we have moved past North Dakota State," Beathard said. "We're excited to get back on the field and get a win and get that taste back in our mouth."
 
Beathard said the Hawkeye offense committed 17 mental miscues against North Dakota State after having a combined 10 during wins against Miami (Ohio) and Iowa State.
 
"We cleaned things up Monday and (Tuesday)," Beathard said. "Now we have to stay focused and be ready to go and not have as many mental mistakes."
 
It is the first meeting between Iowa and Rutgers in football.