Hawkeye Fan Shop — A Black & Gold Store | 24 Hawkeyes to Watch 2016-17 | Hawk Talk Monthly — September | Purchase Single-Game Tickets | Windon Day One Results
GLENVIEW, Ill. – Sophomore Matthew Walker led the University of Iowa men's golf team in the opening rounds of the Windon Memorial Classic on Sunday. With two groups left on the course, round two was suspended due to darkness following a lightening delay. Play will resume Monday at 7:30 a.m. (CT).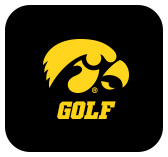 "We started out well today with all five guys competing," said UI head coach Tyler Stith. "We threw some shots away with penalties and could have taken better care of our tee shots."
 
Walker paved the way for the Hawkeyes on Sunday. He is currently tied for third at four-under-par. The sophomore posted a two-under-par 70 in the opening round at North Shore Country Club. His round was highlighted by five birdies, including four on the back nine. Walker is two-under-par with three holes left to play in round two.
 
"Matthew played outstanding today," said Stith. "He was disciplined and gave himself a lot of opportunities while managing himself and the course very well."
 
Raymond Knoll followed, firing a first-round 73 (+1). The senior's round was highlighted by six birdies on holes one, two, four, seven, 12, and 13. Knoll is even through 15 holes in round two and is currently tied for 18th.
 
Carson Schaake, Sam Meuret, and Ryoto Furuya were all able to complete two rounds of play on Sunday. Schaake and Meuret are tied for 50th at seven-over-par 151. Schaake used three birdies on the back nine in round one to card a 72 (E) — his best round of the day. Meuret, a junior, utilized six birdies in the opening round to record a one-over-par 73. Furuya is in a tie for 69th. The freshman fired a 36-hole total of 156 (+12) with rounds of 77 (+5) and 79 (+7).
 
Sophomore Aaron DeNucci is competing as an individual. He is tied for 42nd with a two-round 150 (+6).
 
"Tomorrow we will have to get back to basics and respect the golf course," added Stith.
 
Walker and Knoll will conclude their second round tomorrow at 7:30 a.m. (CT), the third and final round will follow.