Hawkeye Fan Shop — A Black & Gold Store | 24 Hawkeyes to Watch 2016-17 | Hawk Talk Monthly — September 2016 | Game Notes PDF
By CHRIS BREWER
hawkeyesports.com
IOWA CITY, Iowa — The list reads Josey Jewell, Ben Niemann, and Bo Bower — one, two, and, three among the Hawkeyes' top tacklers.
 
Part of it is a product of their positions — all three are linebackers. But being in position doesn't guarantee results, and University of Iowa assistant coach Seth Wallace knows it.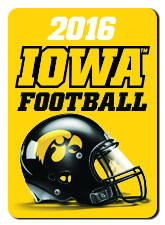 "The one thing I can find when I turn on the tape each week is that they are playing hard," said Wallace, who is in his first year coaching the Hawkeye linebackers. "Any time you play hard it gives you an opportunity to get to the football. That's what we're seeing right now. They're on those tackles and we have to continue to improve, which is our challenge every week."
 
Jewell leads the team with 33 tackles despite missing all but six snaps in the season opener. He has made up for the lost minutes, not only in quantity, but quality. He was credited with three stops last week when Rutgers was facing first-and-goal inside the 5-yard line in the closing minutes of the first half. Jewell and the defense forced a turnover on downs at the 1-yard line, and it proved to be the turning point of the game.
 
"You're sitting there with two minutes left in the half and the momentum could have went either way," Wallace said. "We're fortunate we came out of that, four straight plays and got out of there.
 
"It's one of those deals where your back is against the wall, and those guys made plays. We had a good push from the defensive line and the safeties were in there. You look back and Desmond made a heck of a play at the end to at least hold the ball-carrier up and allow Josey a chance to get there."
 
A similar collective effort is needed this week when Northwestern visits Kinnick Stadium for Iowa's annual Homecoming game. The Wildcats have playmakers under center, in the backfield, and out wide. Senior wide receiver Austin Carr leads the Big Ten in receptions and receiving yards. Quarterback Clayton Thompson completed 24 passes and rushed for a 42-yard touchdown last week, and running back Justin Johnson is approaching 3,000 career rushing yards.
 
"At quarterback we will see something very similar to what we saw last week," Wallace said. "They put in a guy that could do some things with the ball in his hands. We're going to be faced with that throughout the season. The quarterbacks these days are extremely athletic and have a chance to put the ball in their hand and run with it. We've got to make sure we have that option taken care of."
 
As for as slowing the ground game, Iowa will need to duplicate the discipline shown last season when  Jackson was held to the 30 yards on 10 carries.  
 
"We have to be smart and be on our keys," Wallace said. "We have to recognize what is in front of us and understand that he is a very talented running back. We've got our hands full. We'll come out prepared and spend the next two days getting ready for Friday's practice, and then we'll be ready on Saturday."
 
The Hawkeyes and Wildcats kickoff at 11:01 a.m. (CT) at Kinnick Stadium. Tickets are available at hawkeyesports.com or by calling the UI Athletics Ticket Office at 1-800-IA-HAWKS.