Hawkeye Fan Shop — A Black & Gold Store | 24 Hawkeyes to Watch 2016-17 | Hawk Talk Monthly — September
THE SCENE 
The University of Iowa swimming and diving team opens the 2016-17 season on the road with a double dual meet against Notre Dame and Big Ten foe Michigan State on Friday.  Competition begins at 3 p.m. (CT) at the Spartans' Charles McCaffery Pool. Swimming events will be held outdoors, while diving events will take place indoors.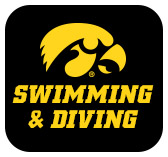 FOLLOW THE HAWKEYES
For an inside look at the Iowa swimming and diving program and access to exclusive coverage, "like" Iowa Swimming and Diving on Facebook and follow @IowaSwimDive on Twitter and @hawkeyeswimdive on Instagram.
HAWKEYES RETURN EXPERIENCED GROUP
The Iowa men's swimming and diving program returns 20 letterwinners and adds 10 newcomers for the 2016-17 season. The Hawkeyes return three NCAA qualifiers and top performers in 10-of-14 swimming events, two-of-three diving events, and seven top performers in relays.   
    The Hawkeye women bring back 23 letterwinners this season, including three NCAA qualifiers, and add eight newcomers to the roster.  Senior Emma Sougstad headlines the returnees after achieving honorable-mention All-America status as a junior; junior Meghan Lavelle is a school record holder in three events and has the second-best time in the 200 back. Iowa returns its top performers in 12-of-14 individual events, on the platform, and its top five relay swimmers.  
SOUGSTAD BACK FOR SENIOR YEAR
Emma Sougstad, a Forest City, Iowa, native led the Hawkeyes in the 100 breast and 200 breast with school-record times last season.  Sougstad finished ninth in the country in the 100 breast (59.00), 31st in the 200-breast (2:11.25), and 25th in the 200 IM (1:57.55) at the NCAA Championships.  Her times in the 100 breast and 200 IM are the fastest in school history.  Sougstad was a stand-out performer at the 2016 Big Ten Championships, posting top-seven finishes in five events. Sougstad is the Iowa school record holder in eight events – 50 free, 100 breast, 200 breast, 200 IM, 200-free relay, 200-medley relay, 400-free relay, 400-medley relay — heading into her senior season.
MEN'S TOP FLYER RETURNS
Iowa has a strong foundation returning in the butterfly events led by junior Jerzy Twarowski. The junior is a two-time NCAA qualifier and is Iowa's school record holder in four events, holding the top times in the 100 fly (46.70), 200 fly (1:44.00), 200-medley relay (1:25.53), and 400-medley relay (3:07.83).  As a sophomore, Twarowski won six individual events and two relays.
RETURNING NCAA QUALIFIERS  
The Iowa swimming and diving program returns six NCAA qualifiers from a season ago.  Three members of the men's 200 and 400-medley relays return, including redshirt sophomore Kenneth Mende, sophomore Jack Smith, and junior Jerzy Twarowski. They finished 10th in 200-medley relay (1:26.50) and 21st in 400-medley relay (3:10.06) at NCAA Championships. 
    The women also return three NCAA qualifiers in Sougstad and senior divers Calli Head and Lydia Lehnert. A two-time NCAA Championships qualifier, Head comes off a career year that saw her win bronze at the Big Ten Championships after diving to a school record score of 312.20 — she shares the school record with Lehnert.  The Wisconsin native placed 31st at the NCAA Championships with a dive of 214.95, while Lehnert placed 36th with a score of 206.95.
HAWKEYE NEWCOMERS
Ten newcomers are set to join the men's swimming and driving program this year, including John Colin, Weston Credit, Sam Dumford, Steve Fiolic, Joe Myhre, Will Scott, Alex Streightiff, Michael Tenney, Isaak Webb, Forrest White. The 10 freshmen come from three different states, including Iowa (4), Illinois (4), and California (2).
    The women's program welcomes eight newcomers for the 2016-17 season.  Amelia Armstrong-Grant, Hannah Burvill, Olivia Dopkiss, Allyssa Fluit, Meghan Hackett, Amy Lenderink, Samantha Sauer, Thelma Strandberg each begin their freshmen campaigns this year. This year's freshmen class comes from all over the map — Colorado, Iowa (2), Illinois, Michigan (2), Great Britain, and Norway.
SWIMMING ACROSS THE POND
This year's Hawkeye squad features five athletes from five countries outside of the United States.  The men's team features junior Jerzy Twarowski (Poland), redshirt sophomore Kenneth Mende (Germany), and sophomore Jack Smith (England), while the women's includes freshmen Hannah Burvill (Great Britain) and Thelma Strandberg (Norway). 
5 HAWKEYES COMPETE AT 2016 U.S. OLYMPIC TRIALS
The University of Iowa men's and women's swimming program was represented at the 2016 U.S. Olympic Trials in Omaha, Nebraska, last June. Senior Jackson Halsmer and junior RJ Hemmingsen each competed in the 50-meter free, while Kyle Patnode competed in the 100-meter fly. Meghan Lavelle competed in the 100 and 200-meter back, and Emma Sougstad competed in the 100-meter breast.
IOWA SWIMMING AND DIVING HISTORY
Iowa was one of the first schools in the nation to compete on a collegiate level, and in 1937, the Hawkeyes competed at the first NCAA Championships.  From 1937 to 1960, Iowa placed in the NCAA top 10 a total of 18 times, crowning nine NCAA and 22 Big Ten champions.
UI CAMPUS RECREATION AND WELLNESS CENTER
The University of Iowa's Campus Recreation and Wellness Center has been home to the Hawkeyes since August of 2010.  The 69 million dollar facility is located at the corner of Burlington and Madison streets and was named the third-best campus student recreation center nationally by Best College Reviews in 2013. The facility includes a 50-meter competition pool, a separate diving well, a leisure pool with lap lanes, and 24,000 square feet of fitness space.
WELCOME BACK
A pair of familiar faces have joined the University of Iowa swimming and diving program this season. Instead of racing down the lanes, they'll be coaching from the deck.  UI graduates Richard Salhus (2011) and Roman Trussov (2016) have joined the program as interim assistant coaches. Salhus returns after spending the last five years as assistant coach of the Iowa Flyers Swim Club. He was recently tabbed as the Flyers' head coach. Trussov was a two-time honorable-mention All-American as a senior last year. He is also the school's record holder in the 100 breast and 200 breast.
ON DECK
The Hawkeyes host their annual intrasquad meet next week at the Campus Recreation and Wellness Center Natatorium. The meet is scheduled for Oct. 8 at 9 a.m. (CT), and it is open to the public free of charge.