Hawkeye Fan Shop — A Black & Gold Store | 24 Hawkeyes to Watch 2016-17 | Hawkeyes in the NFL | Hawk Talk Monthly — September 2016 | Freshman Profile: Manny Rugamba | Freshman Profile: Keith Duncan | Freshman Profile: Nathan Stanley | Buy Northwestern Tickets | VIDEO — Amani Jones
Editor's Note: The following first appeared in the University of Iowa's Hawk Talk Daily, an e-newsletter that offers a daily look at the Iowa Hawkeyes, delivered free each morning to thousands of fans of the Hawkeyes worldwide. To receive daily news from the Iowa Hawkeyes, sign up HERE.
By DARREN MILLER
hawkeyesports.com
IOWA CITY, Iowa — It would be a rare meeting with University of Iowa linebacker Amani Jones if he didn't look you in the eyes and smile. That's a noticeable way he has acclimated to life as a student-athlete in Iowa City.
 
It's not that way in his hometown.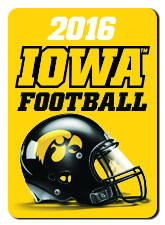 "Where I'm from, I'm looking this way, you're looking that way. There is no eye contact," Jones said. "You mind your own business and make sure you can go home. That's all."
 
Jones is a 6-foot, 215-pound freshman from Wendell Phillips Academy High School on the south side of Chicago. He is one of 10 true freshmen to see action this season for a Hawkeye team that is off to a 3-1 start and faces Northwestern on Saturday.
 
When Jones was a high school senior, Phillips won a Class 4A state championship — the first Chicago Public Schools team in history to win a state football title. He was named all-state as a junior when he made 154 tackles with five forced fumbles and three interceptions (he had a game-high 14 tackles in the 2014 state championship). Jones missed playing time as a senior because of injury, but still earned All-Public League recognition.
 
"We thought (Jones) was a stellar high school player; he played on a good team and was a big motor guy for them," UI head coach Kirk Ferentz said. "He was a strong leader and a productive player. He is enthusiastic, has a great attitude, and is one of those guys who loves practicing. He loves everything about football and has an infectious personality."
 
Jones didn't begin playing football until his freshman year of high school, meaning the 2016 season is just his fifth year in organized ball.
 
"I didn't know anything about football coming into high school," Jones said. "I knew first down, touchdown. I'm still developing, so I'm pretty much coming to grips with everything."
 
Because of his lack of football knowledge, Jones played on the freshman-sophomore team as a freshman in high school. The next season he was a two-way varsity starter at running back and middle linebacker.
 
"Of course I got thrashed because I didn't know anything," Jones said of his initial football experience. "I decided to get better at it that summer and they started me both ways on varsity."
 
Jones flashes his trademark smile on the way to class or in the dorm. But it isn't seen much on practice or playing fields.
 
"I'm always smiling. If I'm not smiling, come talk to me and I'll smile. That's me," Jones said. "Off the field I'm a whole different person. On the field I'm a monster. That's how you're supposed to be, right?
 
"To be a college linebacker you have to have a switch. You can be nice off the field and have good sportsmanship on the field, but the way you play, you have to have a switch to turn it on. Once you put on your pads and get in the game, just turn it on. Don't turn it off."
 
Jones has been a quick learner during UI linebacker drills. He is getting more adept at understanding Hawkeye defensive schemes thanks to meetings with coach Seth Wallace and guidance from veteran players.
 
"I'm giving great effort and go hard every play," Jones said. "I want to get better so (coach Wallace) is on me 24-7 so I can get better. When he needs me, he puts me in and expects me to do great because I have been paying attention and getting better."
 
Iowa and Northwestern (1-3, 0-1) kick off at 11:01 a.m. (CT) on Saturday from Kinnick Stadium. Tickets remain and may be purchased by clicking HERE.