Hawkeye Fan Shop — A Black & Gold Store | 24 Hawkeyes to Watch 2016-17 | Hawk Talk Monthly — September 2016
 
By DARREN MILLER
hawkeyesports.com
 
IOWA CITY, Iowa — Broderick Binns, the football player, put his eggs in one basket, anticipating a decade-long, multi-million dollar career in the National Football League.
 
When that dream burst after five weeks of training camp, Binns, the job-seeker, was lost.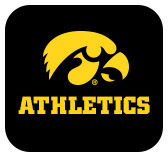 Now director of player development for the University of Iowa football team, Binns delivered an introductory address to 61 student-athletes who attended Networking@Carver on Sept. 22, a pilot event aimed at Hawkeye student-athletes sponsored by Pomerantz Career Center and the UI Athletics Department.
 
Binns highlighted five things for current Hawkeyes to ponder:
 
Stay connected and stay in touch with whatever potential employer you cross paths with,
Have a career backup plan,
Your experiences in college will become a steppingstone and part of your resume,
Be more than an athlete.
 
"For 10 years of my life, all I could think about was get good grades, eat protein, lift weights, and play football," Binns said. "I had a tough time carrying on conversations, all I could talk about was football. Be more than a football player."
 
Binns was a member of Hawkeye football teams from 2007-11, graduating with a degree in psychology with a double minor in human relations and African-American studies. After a brief stint as an undrafted free agent with the Arizona Cardinals, he worked as a chemical dependency technician at a drug rehabilitation center. UI head football coach Kirk Ferentz called Binns back to Iowa as a graduate assistant in 2014.
 
"Don't take it for granted, people are watching, including your coaches," Binns said. "I must have done something right to stick out in coach Ferentz's mind to ask me to come back and mentor and tutor the younger generations."
 
Career Fairs are nothing new to students at the University of Iowa, but ones targeting student-athletes are. Although Networking@Carver was open to the entire campus, it was held in the evening when Hawkeye athletes were done with class and practice.
 
"We hear from employers that there is a great interest in our athletes," said Jamie Cavey, associate director, outcomes at Pomerantz Career Center. "The problem is with athletes' schedules and getting to the Career Fair. We thought we would bring the employers to the athletes, at least to a location they are more comfortable with."
 
Cavey understands the demands on Division I student-athletes. She played basketball for the Hawkeyes from 2001-05.
 "Student-athletes are hard workers and we know what it is like to balance our time. Time management is important to us. I'm interested in Teach for America, a two-year program where you act as a teacher in low income neighborhoods." — Alexis Hernandez, UI track runner
"Employers want people with leadership skills that can develop," Cavey said. "The skills our student-athletes are transferring from sports are what these employers are looking for."
 
One of those employers is Marissa Cory from the professional services firm BerganKDV.
 
"Athletes are hard workers and typically that will correlate with their work ethic in the job," Cory said. "That's why we're excited to speak to them."
 
Networking@Carver was a follow-up event after a primary career fair held earlier Sept. 22 in the Memorial Union. There were 165 employers at the first event, 50 at Networking@Carver. Sixty-one UI student-athletes were present.
 
Nicholas Baer, a redshirt sophomore on the men's basketball team, is majoring in communication studies with a certificate in leadership and entrepreneurial leadership. He is interested in an internship that could possibly lead to a fulltime job.
 
"I will try to get a business background and ideally would think about going into sales," Baer said. "I like that competitive aspect of it. I'm open to anything, I just want to meet people."
 
Senior Alexis Hernandez is a member of the women's track and field team. She is also mother of a 1-year-old daughter. Originally from San Diego, Hernandez would like to put her degree in sociology with a minor in human relations to use closer to California where she could rely on a family support system.
 
"Student-athletes are hard workers and we know what it is like to balance our time. Time management is important to us," Hernandez said. "I'm interested in Teach for America, a two-year program where you act as a teacher in low income neighborhoods."
 
Amani Jones, a freshman linebacker from Chicago, attended the event for extra credit in class. At 18 years of age, he is doing what he can to excel in academics and athletics, because he knows someday playing sports will end.
 
"Football will not be there all my life," Jones said. "It doesn't matter if you go five, eight, 10 years, at some point football has to stop. You have to make connections."