Hawkeye Fan Shop — A Black & Gold Store | 24 Hawkeyes to Watch 2016-17 | Hawkeyes in the NFL | Buy Tickets | Hawk Talk Monthly — September
By RICK BROWN
hawkeyesports.com
IOWA CITY, Iowa — Iowa and Northwestern meet for the 78th time today in a Big Ten football series that has been a 100-yard contradiction: predictably unpredictable.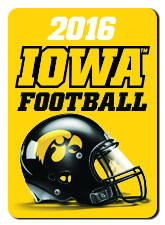 When the Hawkeyes struggled through 19 consecutive non-winning seasons from 1962 to 1980, the Wildcats were viewed as light at the end of the tunnel. The teams played 14 times during Iowa's 19 seasons of struggles. The Hawkeyes won nine times, including seven straight at the end of that 19-season streak.
 
Head coach Hayden Fry's 1981 team snapped the losing ways in stunning fashion with an 8-4 record and a Rose Bowl appearance. Iowa started going to bowl games with regularity after that, and the winning streak over Northwestern grew to 21 straight by 1994.
 
The Wildcats ended the skid by winning the next three games, and would later take five of six from Iowa starting in 2005. Between 2008 and 2010, Northwestern was a purple haze of a headache for Iowa.
 
The Hawkeyes had double-digit leads in all three of those games…and lost all three. And it nearly happened for a fourth straight time in 2011. Iowa saw a 17-0 lead at Kinnick disappear, only to rebound with 24 fourth-quarter points and a 41-31 victory.
 
Northwestern handled Iowa in Evanston in 2012, 28-17, and then nearly pulled off another gut-punching comeback in 2013.
 
Iowa entered that home game one victory shy of bowl eligibility, and took a 10-0 lead into halftime. Northwestern rallied to tie it, 10-10, and had the ball with a first-and-10 at the Iowa 30. Less than 4 minutes remained.
 
But demons were exorcised in an unpredictable flip of the script. Northwestern quarterback Kain Colter scrambled for a 9-yard gain to the Iowa 21. But the Wildcats were called for a chop block, far removed from the ball. On the next play, Mike Trumpy couldn't gather Colter's pitch and Iowa's Desmond King recovered.
 
After Jake Rudock's 8-yard touchdown pass to C.J. Fiedorowicz opened the overtime on a positive note for Iowa, Colter and the Wildcats got their shot.  But on fourth-and-8, Hawkeye defensive tackle Louis Trinca-Pasat pulled down Colter short of the first down. Iowa was bowl eligible. The traditionally pesky Wildcats had been tamed.
 
That was the first of three straight Hawkeye victories in a series that continues with today's Homecoming contest at Kinnick.
 
Iowa crushed the Wildcats again at home in 2014, 48-7, the most one-sided victory in the series since 2002 (62-10). The Hawkeyes made it three in a row last season at Ryan Field, 40-10, in a Top 25 duel that again strayed from the script.
 
Iowa entered the game without starters Boone Myers and Ike Boettger in the offensive line, running back LeShun Daniels. Jr., and defensive end Drew Ott. The offensive line was reshuffled to protect quarterback C.J. Beathard, who didn't practice all week and was limited because of injury.
 
Iowa head coach Kirk Ferentz admitted that if he had been told the final score was going to be 40-10, he would have figured his team lost.
 
"I probably would have mispicked that one, for sure, if you gave me some truth serum," Ferentz said.
 
Iowa hasn't won fourth straight in the series since that 21-game streak. And that's the truth.