Hawkeye Fan Shop — A Black & Gold Store | 24 Hawkeyes to Watch 2016-17 | Hawkeyes in the NFL
By STEVE ROE
hawkeyesports.com
IOWA CITY, Iowa — University of Iowa assistant coach Bobby Kennedy says his young wide receivers are making progress day-by-day, and are ready for the challenge of the final seven regular-season games.
 
That process for the group was put on alert recently with the injury to senior Matt VandeBerg, who suffered a foot injury Sept. 26 and is likely to miss the remainder of the season.  VandeBerg was Iowa's leading receiver through the first four games with 19 receptions for 284 yards and three touchdowns.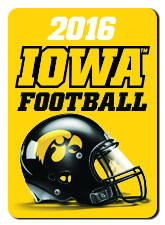 "Matt has been outstanding," said Kennedy.  "In the film room he sits by the young guys; working with guys like Jerminic (Smith) and Jay (Scheel), he's always in their ear.  On the field, he is pulling guys aside, talking to them about what they are doing.  He's always ready to go; he's been a great leader for us."
 
Fellow senior Riley McCarron stepped up Oct. 1 against Northwestern, and Kennedy feels there are younger players who are also ready and willing to take that next step.  McCarron led the Hawkeyes with eight receptions for 78 yards and a touchdown against Northwestern, establishing career-bests in receptions and yards.  He added a 38-yard punt return and a 54-yard kickoff return.
 
"Riley has always been a good special teams guy, but he is also a key guy that I lean on every day," said Kennedy.  "He's smart, he's physical, and he is in the right place about 99.9 percent of the time.  Being able to lean on and trust Riley, I know that he can go out and make plays and will get the job done.  I am encouraged by his progress, so now we need some other guys to step up."
 
Those "other guys" include sophomores Scheel, Smith, Ronald Nash and Adrian Falconer, along with junior Jonathan Parker.  Both Falconer and Parker have been slowed through the first five weeks of the season due to injury, missing valuable practice time.
 
"We're counting on Jerminic and Jay to contribute to this group.  We need them to step up in a big way," said Kennedy.  "But we are also looking at guys like Ronald Nash, Devonte Young, Jonathan Parker, and Adrian Falconer.  We need guys all over the group to step up and take a little more ownership."
 
Smith has recorded 10 receptions for 155 yards with one touchdown.  He was asked to play as a true freshman a year ago and filled in when former wide receiver Tevaun Smith was out due to injury.  Jerminic Smith has one touchdown this season and had a 46-yard reception last week to set up a fourth quarter touchdown.
Scheel has been hampered by injuries during his career, both last season and in the preseason this fall. He had 26 yards on two receptions last Saturday.  Nash has two receptions this year, seeing his first action this season after sitting out a year ago after transferring into the program.
 
"Coach (Kirk) Ferentz and our staff always talk about the next man in, because unfortunately, injuries are going to happen as a part of the game," said Kennedy.  "Riley moved to a more critical role for us, and did a great job.  You have to have the attitude that your number can be called at any time; and that is what we need from this group.  We need them to be prepared and to be ready and last week there were good things from the group."
 
The Hawkeyes return to action Saturday at Minnesota (11 a.m., ESPN2).  Iowa travels to Purdue the following week and hosts Wisconsin on Oct. 22.
 
Tickets are on sale for two of Iowa's three remaining home games, and are available online at hawkeyesports.com, by calling 1-800-IA-HAWKS, or in person at the UI athletics ticket office located in Carver-Hawkeye Arena.  A $25 youth ticket is available for the home finale versus Nebraska (Nov. 25).