Hawkeye Fan Shop — A Black & Gold Store | 24 Hawkeyes to Watch 2016-17 | Hawkeyes in the NFL | Hawk Talk Monthly — Oct. 2016 | Buy Tickets | VIDEO — Sunday Conversation
By DARREN MILLER
hawkeyesports.com
 
IOWA CITY, Iowa — The University of Iowa football program welcomes its bye after spending four weeks in camp and the following eight weeks preparing for and playing games.
 
The Hawkeyes (5-3 overall, 3-2 Big Ten) are off until Nov. 5 when they put their nine-game road winning streak on the line at Penn State.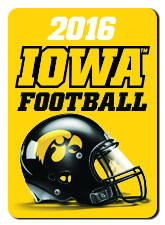 "It has been a long haul," UI head coach Kirk Ferentz said Sunday during an exclusive interview with hawkeyesports.com. "It's important now for the guys that have been playing a lot of snaps to give them a chance to get recharged with no contact this week, but still try to get them moving forward."
 
While game-tested Hawkeyes work toward fresh legs, the bye gives untested players an opportunity to shine.
 
"We will give them more extensive work and see if we can't get some guys to move up a little bit," Ferentz said. "Chances are we're going to have to call on those guys during the course of the last month and if somebody can ascend a little bit this week, we'll give them an opportunity to join the group."
 
Iowa is coming off 17-9 loss to Wisconsin on Oct. 22. Although Ferentz cited missed tackles and "big plays that hurt us in the passing game," there were also highlights, like senior Greg Mabin's hustle play to tackle Wisconsin's Kyle Penniston at Iowa's 5-yard-line (three plays later, the Hawkeyes recovered a Badger fumble in the end zone).
 
Or 16 tackles by junior linebacker Josey Jewell. Or a 47-yard field goal by Miguel Recinos. Or a 77-yard kick return by senior Desmond King against the top kick return defense in the conference. Or two punts by senior Ron Coluzzi that were downed at Wisconsin's 9 and 1-yard lines.
 
"It is a matter of inches sometimes, little details," Ferentz said. "Both teams competed hard, it was a physical game; (Wisconsin is) a physical football team. Both teams played tough that way."
 
Iowa's run defense continues to be stout. The Hawkeyes held Wisconsin to 93 yards on 33 carries through three quarters.
 
"Our guys competed hard, if we could just squeeze down some of the detail stuff. And offensively, we did some really good things there, too, just not enough and not enough consistently," Ferentz said. "We were good on first down, had some issues on second down and some of those led to tough third down situations, especially against a team that came in here playing really well on third down. Those are areas we have to do better at and all those things add up to affecting possession time. Those are things we have to continue to work on."
 
Iowa has won its last three games after a bye: 31-15 over Maryland (Oct. 31, 2015), 48-7 over Northwestern (Nov. 1, 2014), and 45-29 over Indiana (Oct. 11, 2014).