Hawkeye Fan Shop — A Black & Gold Store | 24 Hawkeyes to Watch 2016-17 | Hawkeyes in the NBA | Hawk Talk Monthly — Nov. 2016 | Single Game Men's Basketball Tickets
By JAMES ALLAN
hawkeyesports.com
IOWA CITY, Iowa — The battle to be the University of Iowa men's basketball team's starting point guard is at a stalemate eight days before the team's first exhibition and 15 days until the regular-season opener.
 
One day it's sophomore Christian Williams, the next it's freshman Jordan Bohannon.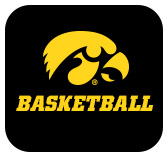 "I don't think either one is ahead right now," UI head coach Fran McCaffery said Thursday. "At different times one has been ahead, but collectively, they're about the same.
 
"Both guys have brought different things to the position that will benefit our team.  They go at each other, and sometimes I play them together. I look at the collective stats for a three-week period and both assist-turnover numbers are good, both shoot the ball well, are showing toughness, and playing defense.
 
"I am confident with either one of them."
 
McCaffery sees much of the same when it comes to his starting five — outside of senior shooting guard Peter Jok.
 
"It's almost irrelevant who starts because we can go beyond 10," he said. "Whether we will or not remains to be seen.  We have multiple players than can be effective and will be ready to play, not only by understanding the physicality of what this level is, but the complexity from an X's and O's standpoint."
 
There have been good days, pretty good days, and some days with struggles in practice in regards to the overall consistency of the team's six freshmen. McCaffery says the group has been consistent enough considering their lack of game experience.
 
"(Tyler) Cook has consistently scored the ball; every day he scores the ball," said McCaffery. "Bohannon competes every day and shoots it lights out some days; you can go right down the line.
 
"(Cordell) Pemsl, once he got healthy, has been good with his skillset, and (Ryan) Kreiner has been our leading rebounder from day one in practice over a three-week period. That's a long random sample of data; every time the ball goes off the rim he's going to get it and you have to respect that about him."
 
Jok has been pleased with the underclassmen's growth, but cautions it's still early.
 
"(Practices) have been going well," said Jok, a preseason All-Big Ten selection. "We have a long way to go, which can be expected, but they're picking things up quickly."
 
McCaffery isn't ready to commit to redshirts, but he has an eye on the perimeter to see which players step up to grab available playing time and who the odd-man-out will be.
 
"It's a difficult decision to make," said McCaffery. "It we decide to do it, it's for all the right reasons."
 
Iowa hosts Regis University in an exhibition Nov. 4 on Mediacom Court inside Carver-Hawkeye Arena beginning at 7 p.m. (CT).  Tickets are $5 for the exhibition; children and UI students will be admitted free, but will need a ticket to be admitted.