Hawkeyes in the NFL | 24 Hawkeyes to Watch | Hawk Talk Monthly — November
IOWA CITY, Iowa — Being mentally tough and ready to compete for 60 minutes is the message University of Iowa offensive line coach and run game coordinator Brian Ferentz has been telling his unit this week.
 
The Hawkeyes return to action Saturday at No. 20 Penn State. Kickoff is set for 6:42 p.m. (CT) at Beaver Stadium in University Park, Pennsylvania. It will be Iowa's first visit to Penn State in five years.
 
Iowa has had success on the road winning its last nine contests away from Iowa City. The Hawkeyes will need to carry that momentum over to this weekend's game as more than 100,000 fans are expected for the primetime showdown. Ferentz says everyone needs to be focused at kickoff.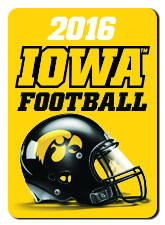 "You have to handle the environment, you can't be distracted by it," said Ferentz at the conclusion of Wednesday's practice. "It's going to be loud and boisterous, but we've played in loud environments before. We need to be ready to execute. The simple things like alignment, snap count, cadence, and communication become a little more difficult in an environment like that. They are certainly doable, but it takes great focus and mental toughness."
 
Penn State enters Saturday's game ranked second in the Big Ten in sacks (23). Ferentz says it will be a battle in the trenches and being physical will play a role in the outcome of the game.
 
"What's important for us is that we stick to our script and what we do," Ferentz said. "If we play physical, tough, and attack at the line of scrimmage, we will be competitive and you never know what will happen."
 
Ferentz said the team and the offensive line have had a good week of practice.
 
"We feel good where everything is at," said Ferentz. "All we have done up to this point is give ourselves a chance, so what we need to do is continue the preparation all the way until the game."
 
Saturday will be Iowa's first football game since a 17-9 loss to No. 10 Wisconsin on Oct. 22 in Iowa City. The coaching staff and players embraced the bye week to not only get recharged for the final stretch, but also allow the younger players in the program to get extensive work at practice.
 
"We talk all the time about being a developmental program," Ferentz said. "We went to a morning practice last year and unfortunately that hasn't given us as much time to work with some of the younger guys; we have to get them to class. So having an entire week with them and having an opportunity to coach them and get them to do some of the things that they need to do from a standpoint of becoming better football players was productive.
 
"On top of that, we have had younger guys forced into spots where they are playing a little more than maybe we have wanted. So to get caught up on some of those things was a positive."
 
Iowa is 7-5 all-time at Beaver Stadium, recording victories in five of its last seven visits.