Hawkeye Fan Shop — A Black & Gold Store | 24 Hawkeyes to Watch 2016-17 | Hawk Talk Monthly — Nov. 2016 | Sammy Brooks: 24 Hawkeyes to Watch | Coach Brands Media Day Transcript (PDF) | Media Day Photo Gallery | Brands News Conference Recap
By JAMES ALLAN
hawkeyesports.com
IOWA CITY, Iowa — There's a warning label that comes with University of Iowa senior Thomas Gilman.
 
The sticker UI head wrestling coach Tom Brands says will don Gilman's gear for the 2016-17 season says: "STAY CLEAR WHILE MACHINE IN USE."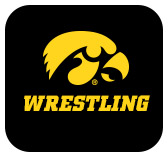 "It's a warning for all of his opponents, in the practice room, and it's serving a national message," Brands said Wednesday during media day. "We love Gilman; he is the leader of this team. He does things right from a practice and lifestyle point of view, the way he competes and represents. The locker room is his."
 
Gilman wasn't aware of the warning label talk until he met  reporters in the Dan Gable Wrestling Complex moments after Brands left the podium, but he says the narrative fits.
 
"I am not sure where it came from, but it makes a lot of sense," said Gilman, the nation's top-ranked wrestler at 125 pounds. "I am a machine, so stay out of the way when I am working.
 
"If you're not going to stay out of the way, I am going to put you out of the way and people aren't going to like that."
 
Gilman walked the walk and talked the talk when he was Iowa's most dynamic wrestler as a junior last season. He posted a 28-2 record, was the NCAA runner-up, and was a bonus-points machine. Gilman scored bonus points in 25-of-28 wins and tied for the team lead with 10 falls.
 
"My sophomore year I didn't put myself out there too much, I was caught up in just winning matches," Gilman said of the 2014-15 season when he went 31-6 and placed fourth at nationals. "It's not about winning matches here, it's about winning by a large margin and getting fans excited."
 
It wasn't as easy as flipping a switch, but rather developing a mentality.
 
"It's more mental than physical," he said. "The training doesn't change; I have always been a hard trainer and worker, but it's the mental part of putting yourself out there. You have to put your nerves aside, you're there for a reason."
 
Gilman bonus-pointed his way to becoming an NCAA finalist in 2016 before dropping a 6-3 decision to Penn State's Nico Megaludis. There is still hurt and sting associated with the loss, but Gilman's not one to let the feeling linger.
 
"I don't know how much I think about (losing that match) on a day-to-day basis," he said. "I am a guy that puts it behind me quickly and moves on. 
 
"This year, (the NCAA title) is in my sights, and I am looking forward to it, but I have to take care of day-to-day stuff by getting better every day. If I take care of that then March will take care of itself."
 
Gilman's approach is about lifestyle. There wasn't an offseason, per se, it just was a time where he wasn't competing in collegiate matches.
 
"Nothing has changed for me between the NCAA Championships and now," he said. "I was moving forward everyday preparing for the season, Rio 2016, and beyond. There is no difference in my lifestyle or training."
 
With Gilman, if the sticker fits, wear it.