Hawkeye Fan Shop — A Black & Gold Store | 24 Hawkeyes to Watch 2016-17 | Hawk Talk Monthly — Nov. 2016 | Buy Women's Basketball Tickets
By DARREN MILLER
hawkeyesports.com
IOWA CITY, Iowa — University of Iowa head women's basketball coach Lisa Bluder compared the Chicago Cubs baseball team to her Hawkeyes less than 12 hours after the Cubs won the 2016 World Series.
 
Bluder described the Cubs as young and exuberant. So are the Hawkeyes, who host Lewis University in an exhibition Sunday at 2 p.m. (CT) on Mediacom Court inside Carver-Hawkeye Arena.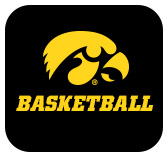 "(The Cubs) just believed. Sometimes when you're young, you don't know what you can't do," said Bluder, a Cubs fan. "With our team, we're mirroring that. We're young, they're having fun, and they think they can accomplish anything. We're going to model ourselves after the Cubs a little bit."
 
Lewis is ranked No. 20 in the first Women's Basketball Coaches Association Division II poll. The Flyers were 28-3 a year ago and return the 2015 Great Lakes Valley Conference Player of the Year in Jamie Johnson and 2016 GLVC Freshman of the Year, Jessica Kelliher.
 
"We were trying to get a really good Division II school in here that will challenge us and be organized and (Lewis) will do that," Bluder said Thursday at a news conference in Carver-Hawkeye Arena. "It doesn't count on your schedule, so you might as well play the toughest team you can that will help you prepare for the year. We feel that playing top Division II schools will do that."
 
Bluder plans to use the entire Hawkeye roster with the exception of sophomore Carly Mohns. Mohns is recovering from injury and could be available in December.
 
That leaves 13 others and Iowa is considering how to carve its Sunday minutes. Bluder said it could be a situation where senior Ally Disterhoft and sophomores Tania Davis and Megan Gustafson see less time than they averaged a season ago. In 2015-16, Disterhoft averaged 36.6 minutes, followed by Davis (26.3) and Gustafson (22.5).
 
"I hope their minutes will be more quality minutes," Bluder said. "I hope they will be fresher in the fourth quarter and at the end of the season if we are able to spread those minutes out a little more."
 
There appears to be plenty of qualified candidates for playing time. That was validated after a closed scrimmage against Creighton on Oct. 30.
 
"We knew we were (deep), but it's nice to see that confirmed," Bluder said. "Our depth and balance was good, our defense was better and that is an area we tried to improve. It was a significant increase."
 
With a deep roster, Bluder expects playing rotations and court time to develop during the season.
 
"We will evolve all year in finding those best pieces, because we have so many to work with," Bluder said. "When you don't have as many to work with it is easy — you put in what you have. When you have so many you can play, coaching decisions and time management come into play more."
 
Look for an improving five-member freshman class to earn its share of court time as well.
 
"They don't act like freshmen and I love that," Bluder said. "They are not meek, sitting back and waiting their turn. They are making their turn now and to me that is fun and what they should be doing."
 
Kind of like the Chicago Cubs.