Hawkeye Fan Shop — A Black & Gold Store | 24 Hawkeyes to Watch 2016-17 | Hawk Talk Monthly — Nov. 2016
Editor's Note: The following first appeared in the University of Iowa's Hawk Talk Daily, an e-newsletter that offers a daily look at the Iowa Hawkeyes, delivered free each morning to thousands of fans of the Hawkeyes worldwide. To receive daily news from the Iowa Hawkeyes, sign up HERE.
By JAMES ALLAN
hawkeyesports.com
IOWA CITY, Iowa —Imagine spending the fall hitting balls over the Green Monster in Fenway Park or taking advantage of the short porch in right field at Yankee Stadium.
 
Virtually, the University of Iowa baseball team has taken batting practice in Wrigley Field and in 20 Major League Baseball stadiums thanks to their new HitTrax system in the Jacobson Hitting Facility.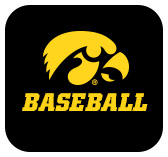 "We're making Fenway look pretty small at times," said sophomore Robert Neustrom. "I like to hit at Yankee Stadium because they have the upper decks. It's fun to watch the ball go out there; it's kind of like playing a video game."
 
It's part of the latest technology to hit the Iowa program.  Between Jacobson and Duane Banks Field, Iowa has been outfitted with HitTrax, a pitcher simulation system, vision training software, and TrackMan — a 3D Doppler radar that pairs video, statistics, and analytics.
 
"With these four systems, there is no aspect of how to be better-trained," said UI hitting coach Pete Lauritson. "You have the physical side, mental training, and vision for recognizing pitches.
 
"It all combines with each other. No one thing is more important than the others; it all matters. You can't be great at recognizing pitches, but have a sloppy swing to be successful, so why not be great at all of it?"
 
HitTrax, made possible through a gift from Don Stalkfleet, gives the Hawkeyes the ability to test their skills in big league ballparks, but the data it provides is a game-changer. The software tracks exit velocities, launch angles, and hard-hit averages — all key components in Lauritson's new "training with intent" philosophy.
 
"Instead of going into the cage and trying to visualize where and how hard we're hitting the ball, we're blessed to have the HitTrax system," said Neustrom. "We can see virtually where we're hitting the ball, how hard we're hitting it, the angles, and whether it's a hit or not.  It's a valuable resource."
 
The system provides a heat map for each player and the virtual strike zone offers data showing where the ball is hit hardest. It allows players to track their personal data and progress.
 
The pitcher simulation machine makes the old pitching machine obsolete. The new software shows a video of a pitcher on a screen, allowing players to see a pitch coming at them in a game-like setting. Pitches can be programmed — slider, curveball, fastball — to train for a certain type of pitcher.
 
"If you're going into a series and are facing a guy that throws 50 percent sliders, two days in advance we could train to beat a Friday night guy," said Lauritson. "You could throw two sliders for a strike, a slider for a ball, and two fastballs for a strike.
 
"We could set up with 50 percent sliders and you need to figure out what pitches you're sitting on and to recognize balls and strikes. It gives you a timing mechanism that is different than hitting off a regular machine."
 
Hawkeye hitters are also delving into a new world with a game-sense pitch recognition program.  It's essentially weight-lifting for the eyes.
 
The system shows a pitcher on a monitor, he goes into a wind-up, and players focus on different release points.  The ball goes in flight for 15 feet and pauses, allowing the player to recognize the pitch and whether it's a ball or strike.
 
"It makes the players answer what pitch they think it is," said Lauritson. "You're training your eyes to recognize pitches. Pitchers are throwing harder and harder and the harder they throw that means their off-speed pitches are nastier.  Any advantage you can gain to recognize the pitch as soon as possible is beneficial.
 
"The most beautiful aspect of hitting is if you can create more time to make decisions, the better chance you have to hit it hard and square it up with your best swing."
 
The last piece of the puzzle was made possible by a gift by Dr. John Albright. The TrackMan software was installed at Duane Banks Field, and it is a tool that benefits the entire team. The system measures spin rate and tilt access and gives Iowa's coaching staff data to measure arm angles and sharpness of pitches. TrackMan also provides in-game data with exit velocities and launch angles for hitters.
 
"We train with weighted bats, bat speed, and to hit the ball harder," said Lauritson. "If you can hit the ball in training, if you're at 98 miles per hour, in games, we have to figure out a way to get close to that. We have TrackMan to measure that in live-game situations."