Hawkeye Fan Shop — A Black & Gold Store | 24 Hawkeyes to Watch 2016-17 | KinnickEdge.org | Hawkeyes in the NFL | Hawk Talk Monthly — Nov. 2016
By JAMES ALLAN
hawkeyesports.com
IOWA CITY, Iowa — Helmet gate came to a close Monday for the University of Iowa football team. 
 
In the aftermath of Saturday's dramatic 14-13 walk-off victory over No. 2/3 Michigan, helmets went flying (and subsequently disappeared) when thousands of fans rushed the field inside Kinnick Stadium.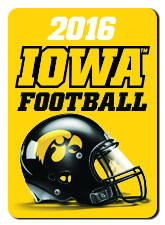 Senior quarterback C.J. Beathard's helmet was eventually retrieved by an Iowa City police officer downtown Saturday night. UI head coach Kirk Ferentz said the number of helmets that went astray was in the teens.
 
"I got word Sunday and there was some concern (over the missing helmets)," Ferentz during his Tuesday news conference in the Stew and LeNore Hansen Football Performance Center. "It sounds like they all got back to the nest Monday morning. 
 
"(Manager) Brock Baumert drove me (to the Stew and LeNore Hansen Football Performance Center) after all the media stuff (on Saturday night) and he said the student managers were helping after the game because anything that wasn't nailed down was being accosted. (Fans) were going after everything.
 
"(The managers) deserve gold stars for the week."
 
The on-field Hawkeyes deserved gold stars, too. Iowa put its humbling road loss at Penn State in the rearview mirror and responded with its most complete performance of the 2016 season.
 
"Our players demonstrated great unity and commitment all week and played with great heart," said Ferentz. "Our preparation was similar (to the Penn State game), so it was all about growth, development and the players choosing to put the week behind them and using that as motivation to move forward. The guys pulled together."
 
Last week the challenge was undefeated Michigan.  This week it's about avoiding an emotional hangover when the Hawkeyes travel to Memorial Stadium to face Illinois at 11 a.m. (CT) in their regular-season road finale.
 
"We have to turn the page, do a great job with our preparation, block out any noise that might be there, and focus solely on Illinois," said Ferentz. "It's a tough road game in the Big Ten."
 
The Illini are 3-7 overall and 2-5 in Big Ten action under first-year head coach Lovie Smith.  Illinois' last win came on Nov. 5 — a 31-27 victory over Michigan State in Champaign.  The Hawkeyes have won nine of their last 10 road contests.
 
Iowa defeated the Illini, 29-20, last season in Kinnick Stadium, but the game was in the balance late. The Hawkeyes led 16-13 in the third quarter until Jordan Canzeri broke free for a 75-yard touchdown run to widen the gap.
 
"Last year was a tough game, one of our toughest of the season," said Ferentz. "If it weren't for Jordan Canzeri, I'm not sure the outcome would have been positive. They played us tough, and we expect the same thing again."
 
Ferentz praised two of Iowa's "Next Men In" for their play against the Wolverines. 
 
Freshman Manny Rugamba recorded his second career interception in his first career start, while senior Anthony Gair tied a career-high with seven tackles after playing nearly the entire game following the injury to safety Miles Taylor on Michigan's first play from scrimmage.
 
Rugamba was the Big Ten Freshman of the Week on Nov. 14.
 
"To have a good football team you need the young guys stepping in and performing and a fifth-year senior performing and without any warning," said Ferentz. "As good as the game was, as a coach, those are the things you can appreciate.
 
"Anthony can be proud of that his entire life. He did a great job, and the whole team supported him. It was good to see that."
 
Rugamba is atop Iowa's defensive depth chart at left corner back with news coming out that senior Greg Mabin will miss the remainder of the regular season with fracture in his lower leg. Iowa will also be without senior offensive lineman Cole Croston for a fifth straight game, and senior tight end George Kittle is still questionable.
 
Saturday's game will be televised on BTN with Scott Graham, J Leman, and Rick Pizzo on the call.