Hawkeye Fan Shop — A Black & Gold Store | 24 Hawkeyes to Watch 2016-17 | Meet Our 2016 Kid Captains | Video – Madelynn Higbee
By CATIE MALOOLY
UI Health Care Marketing and Communications
 
IOWA CITY, Iowa — Twelve-year-old Madelynn Higbee loves to sing, play the flute, and run track. You would never know she almost lost the ability to do all of these things.
 
In summer 2014, Madelynn began experiencing swelling and pressure in her neck and throat. She was initially diagnosed with tonsillitis, but Madelynn's parents, Emily and Brian, worried it was more serious.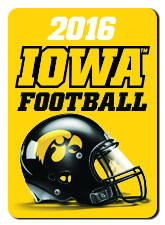 "As a mom, you know that something's not right," says Emily.
 
Madelynn was referred to a local ear, nose, and throat specialist, where a CT scan revealed two large non-cancerous masses — lymphatic malformations — in her esophagus. These masses, known as macrocysts, were caused by the abnormal development of Madelynn's lymphatic system and made it difficult for her to swallow and breathe.
 
"This is something that normally occurs in utero (before birth), "says Brian. "We have no idea how this popped up when Madelynn was 10."
 
Madelynn was referred to University of Iowa Stead Family Children's Hospital, where a team of specialists were waiting.
 
"It's an amazing relief to know you're not the one in charge anymore, to know that other people are taking care of you and your daughter, to where you can step back and trust their expertise," says Emily.
 
Many lymphatic malformations are more external, but Madelynn's were in a delicate, more internal area of her neck. Due to their size, they pushed into her trachea and esophagus, and their placement made surgery a dangerous option, risking permanent deformities.
 
Madelynn's parents and care team decided that a drug developed in Japan, OK-432, was the best course of action.
 
"The first of many blessings was the realization that we are only two hours away from what's basically the hub of this coordination (in the United States) of the OK-432: Iowa City," says Brian.
 
Fluid was first drained from Madelynn's two macrocysts and then the OK-432 drug was injected into them. The goal of the drug is to cauterize, or scar, the inside of the macrocysts to remove the threat of more fluid buildup.
 
During the scarring process, the masses swell, making swallowing and breathing more difficult. Madelynn underwent a tracheostomy (trach) — a surgical incision into the windpipe — to keep her airway open as the drug worked.
 
Emily and Brian learned how to care for Madelynn's trach during her 15-day stay in the Pediatric Intensive Care Unit.
 
"We know that we feed our children, clothe them, and provide them with memories and moments," says Emily. "But to know that you're responsible for her airway…it's a big undertaking."
 
Madelynn's doctors advised that the drug would likely need to be administered multiple times. But six weeks later, the Higbees learned the OK-432 therapy worked on the first try and Madelynn no longer needed her trach.
 
"It was the best feeling in the world," says Brian. "She is the toughest person I know."
 
The Higbees are thankful for Madelynn's care team, including pediatric surgeon José Manaligod, MD, and Diane Burke, RN, BSN, who helped their daughter.
 
"We are just grateful for each and every person who has played a role in Madelynn's journey," says Emily. "We have been given the opportunity to remain a family."