Hawkeye Fan Shop — A Black & Gold Store | 24 Hawkeyes to Watch 2016-17 | KinnickEdge.org
Editor's Note: The following first appeared in the University of Iowa's Hawk Talk Daily, an e-newsletter that offers a daily look at the Iowa Hawkeyes, delivered free each morning to thousands of fans of the Hawkeyes worldwide. To receive daily news from the Iowa Hawkeyes, sign up HERE.
By DARREN MILLER
hawkeyesports.com
CHAMPAIGN, Ill. — Perhaps head coach Kirk Ferentz's finest scouting tip last week didn't come from game film, but from The Weather Channel.
 
It was very cold in Champaign, Illinois, on Saturday. When the University of Iowa football team kicked off to the host Illini, temperature was 36 degrees Fahrenheit. There were also 23-mile-per-hour winds that gusted to 40 mph, creating unpredictable playing conditions.
 
So, if and when Illinois was forced to punt with the wind at its back, Ferentz decided to send senior wide receiver Riley McCarron deep and to the opposite side of the field from All-American Desmond King.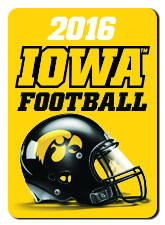 With just under five minutes to play before halftime — and with wind gusts at its back — Illinois punted from its own 5-yard line. Standing deep and to the Illini's left was King, who entered the game with 23 punt returns for an average of 8.7 yards. To the right was McCarron, who had one punt return on the season for 38 yards.
 
As the ball drifted toward McCarron at Iowa's 45-yard line, King sprinted over and delivered a block to open a huge hole. Later in the return, sophomore Joshua Jackson did the same. The result was a 55-yard touchdown, giving Iowa a 7-0 lead in a game they won, 28-0.
 
"We have done that some times in the past and it was strictly driven by the conditions," Ferentz said. "On Monday they were calling for 20-plus mile-an-hour winds."
 
"It was a game plan with the wind," echoed McCarron. "We didn't know where he would punt it or how the weather would shake out, so we threw two (returners) back there because the ball could have gone anywhere."
 
McCarron said the cross wind carried the ball further than usual, but once it was in flight it was a matter of focus and "taking care of your job."
 
He had plenty of help since no Illinois player touched him during the 55-yard jaunt.
 
"We knew when they were going to punt with the wind we would have an opportunity to return it," McCarron said. "Credit to our punt return unit, they did a great job blocking. I didn't get a finger laid on me. All the credit goes to them, I had the easy part."
 
The Hawkeyes entered the game with the second-best punt return average in the Big Ten at 10 yards per 24 returns (Michigan was averaging 18 yards on 18 returns). Technically, McCarron was the league's top punt return specialist with his 38-yards per return average. After Iowa's victory — and a second return for 17 yards — McCarron now sits with three punt returns on the season for 110 yards (36.7 average).
 
And one huge, momentum-providing touchdown. On a day when temperatures neared freezing, McCarron broke the ice for the Hawkeyes.
 
"What a great job Riley and the whole team did on executing a punt return," Ferentz said. "A big, big play in the game."
 
Northwestern knows how skilled McCarron is in the return game. On Oct. 1 in Kinnick Stadium he returned one punt for 38 yards and one kick for 54 yards.
 
The last time an Iowa player returned a punt for a touchdown was Drew Ott from 12 yards against Nebraska in 2014 when the late Sam Foltz kicked the ball into a Cornhusker blocking back. The last "traditional" punt return for a touchdown was in 2013 when Kevonte Martin-Manley returned two for second-quarter touchdowns during a 59-3 win against Western Michigan.
 
Martin-Manley fielded four punts for 184 yards against the Broncos. Also that day, the Hawkeyes had a sophomore return two punts for eight yards.
 
Ironically, his name was Riley McCarron.