Hawkeye Fan Shop — A Black & Gold Store | 24 Hawkeyes to Watch 2016-17 | Hawk Talk Monthly — Nov. 2016 | Photo Gallery
By JAMES ALLAN
hawkeyesports.com
BOCA CHICA, D.R. — The University of Iowa baseball team's ninth-inning rally came up short in an 8-7 loss to the Texas Rangers Baseball Academy on Monday afternoon at the Rangers Complex.
 
Trailing 8-5 heading into their final at-bat, the Hawkeyes loaded the bases to start the inning via a walk and back-to-back singles from Ben Norman, Tyler Cropley, and Mason McCoy.  Sophomore Robert Neustrom singled in the first run before Jake Adams' sacrifice fly trimmed the deficit to 8-7.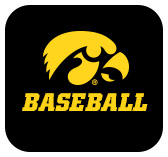 With two outs and two runners in scoring position, junior Chris Whelan flied out to left centerfield to end the game.
 
"Offensive we had a great day, we battled, didn't quit and got good swings off," said UI head coach Rick Heller. "We barreled balls up and had extra base hits. I have no complaints with how we battled and fought, it's just the defensive side… a lot of young and new guys haven't learned the value of every single pitch."
 
Iowa scored in each of the first three innings.  Cropley doubled and scored in the first and third innings, and Whelan singled and scored in the second.
 
Trailing 4-2, the Rangers pulled to within one with a single run in the sixth before taking advantage of Hawkeye miscues in the seventh.  With two outs, the academy team had back-to-back walks and it scored two runs on consecutive Iowa errors.
 
The big blow came via the long ball when Perez — the starting third baseman — connected on a three-run home run over the left field fence, giving the Rangers an 8-4 lead.
 
"We were bad on defense, virtually every run they scored we gave them," said Heller. "That is uncharacteristic of who we are. Hopefully it was a wakeup call for us and we can learn from it."
 
Iowa got one run back in the eighth via an Adams solo home run to lead off the frame, but the Hawkeyes ninth inning rally fell short.
 
Sophomore Shane Ritter was strong on the mound, allowing two hits over five innings.  He had three strikeouts on the day.
 
"Shane gave us a quality start," said Heller. "He pitched well and gave us a chance to win."
 
Cropley and McCoy paced Iowa offensively with three hits apiece.  Cropley finished 3-for-5 with two doubles and three runs scored, while McCoy was 3-for-5. Neustrom and Whelan had two hits apiece.
 
Iowa (1-1) returns to action Tuesday, facing Escogido in Quisqueya Stadium beginning at 8:30 a.m. (CT).