Hawkeye Fan Shop — A Black & Gold Store | 24 Hawkeyes to Watch 2016-17 | KinnickEdge.org | Game Notes
By RICK BROWN
hawkeyesports.com
IOWA CITY, Iowa — When Kirk Ferentz returned to Iowa City for his second term on Iowa's football staff, this time as Hayden Fry's successor, he had quite the welcome waiting for him: Nebraska.
 
The undermanned Hawkeyes opened the 1999 season, and the Ferentz era, with a home game against a Nebraska team that would finish 12-1 and No. 3 in the final Associated Press poll.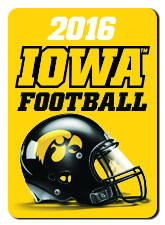 The Cornhuskers won that day at Kinnick Stadium, 42-7, as quarterbacks Bobby Newcombe and Eric Crouch scored three touchdowns each. Iowa, on its way to a 1-10 season, managed just eight first downs, 57 yards rushing, 169 yards of total offense and never moved the ball deeper than the Nebraska 33.
 
"It was not the most enjoyable thing to lose, but it is not hopeless," Ferentz said afterwards. "We just have to get back to work. "
 
Iowa also played at Nebraska in 2000. The 42-13 defeat in Lincoln to the nation's top-ranked team was the 14th in 15 games under Ferentz. But things weren't hopeless. Iowa played in a bowl game the following season. And the 2016 team will be the 14th bowl team on the Ferentz resume.
 
Five of his teams have finished in the top 10 of The Associated Press poll, and Ferentz has been named Big Ten Coach of the Year four times.
 
A victory over No. 17 Nebraska today in the Heroes Game would be the 82nd Big Ten victory for Ferentz, moving him past Michigan's Lloyd Carr and into sixth on the all-time list.
 
 The Iowa-Nebraska series started in 1891, but this is just the 47th game between the border schools. The Cornhuskers have the upper hand, 29-14-3, but Iowa has had its moments.
 
None proved to be more electric than a 10-7 upset of No. 7 Nebraska to open the 1981 season. Iowa had a new offensive line coach that season, a guy who had been a graduate assistant at Pittsburgh the year before. His name was Kirk Ferentz.
 
That was a stunning victory for an Iowa program that had run off 19 consecutive non-winning seasons and lost in Lincoln the season before, 57-0. It gave Fry's rebuilding project real momentum, kicking off one of the most incredible, unpredictable seasons in Hawkeye history.
 
Iowa went 8-4, shared the Big Ten title with Ohio State, and earned the school's first berth in the Rose Bowl since Jan. 1, 1959.
 
The schools would not meet been again until 2011, after Nebraska joined the Big Ten. The Cornhuskers won the first two meetings, 20-7 in Lincoln and 13-7 in Iowa City in 2012.
 
But it started feeling like a rivalry in 2013, when Iowa won in Lincoln for the first time since 1943, 38-17.
 
Nebraska returned the favor in 2014, beating the host Hawkeyes in overtime, 37-34.  That was a loss that stuck in Ferentz's craw for months, because he felt his team didn't compete at the level necessary to win a Big Ten game.
 
 A year later, Iowa put the wraps on a 12-0 regular season by winning at Nebraska, 28-20. Instead of a disappointing end to an underachieving season, as the 2014 loss had been, Iowa made history with a school-record 12th victory.
 
"To look at our players, and what they've accomplished, that's a pretty good feeling," Ferentz said.
 
And remember that first game of the Ferentz era, that loss to No. 3 Nebraska? The Iowa team that won at Memorial Stadium on Nov. 27, 2015, was ranked No. 3.
 
The rematch is today at Kinnick Stadium. Iowa will be trying to win a third straight game to end the regular season. And the Hawkeyes will be looking for their first victory over Nebraska at Kinnick Stadium since 1981, when that 26-year-old line coach named Ferentz was a rookie.