Hawkeyes in the NBA | 24 Hawkeyes to Watch | Hawk Talk Monthly — November | Purchase Single-Game Tickets | Box Score (PDF) | Boxscore
By JAMES ALLAN
hawkeyesports.com
NICEVILLE, Fla. — Senior Peter Jok scored the most points by a Hawkeye in 40 years but the University of Iowa men's basketball team fell to Memphis, 100-92, in the third-place game Saturday afternoon at the Emerald Coast Classic.
 
Jok finished with a game-high 42 points, making 11-of-16 field goals, eight 3-pointers, and all 12 of his free throws. His point production ties Bruce King for the fourth-most in a game in school history and his eight 3-pointers were one shy of the single-game record.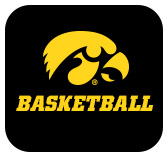 "I didn't play well yesterday, so today my main focus was to start hot so the young guys could follow me," said Jok, who joined Iowa's 1,000-point club in a 24-point first half. "There is only so much I could do.  We needed a couple of guys to step up, but unfortunately we lost."
 
"It's a shame when you have a guy play that well and you can't ride that to victory," said UI head coach Fran McCaffery. "It was a better effort than yesterday, but 54 points in the paint is not a recipe for success."
 
Memphis shot 61.5 percent in a 54-point first half and 55.6 percent for the game. The Tigers scored 54 points in the paint, had 22 second-chance points, and had 21 points on 18 Iowa turnovers.
 
"Our defense is not where it needs to be," said McCaffery. "We gave up 100 and 54 points in the paint… those numbers are unacceptable.  We have to do a better job protecting the basket whether we're in transition, zone, or man-to-man."
 
Memphis led 21-9 over the first five minutes before Iowa clawed its way back to tie the game at 25 with 11:11 left in the first half.   The Hawkeyes took a 30-29 lead on a Jok 3-pointer at the 9:09 mark, but the Tigers answered and took a 54-51 lead into the break.
 
Iowa surged coming out of the half to take a 63-58 lead on a Nicholas Baer 3-pointer with 16:33 to play.  The Tigers followed with a 10-0 run to take a 68-63 lead and then built their advantage to double digits with 13 minutes left.
 
Down 86-76 with 7:23 to play, Iowa fought back to make it a three-point contest on Jok's eighth 3-pointer, but mistakes plagued the Hawkeyes down the stretch, allowing Memphis to pull away late.
 
"We have to do a better job at taking care of the ball; we're turning it over too much," said McCaffery. "When we're making a run, you have an ill-advised turnover at the wrong time trying to force the ball.  We have to move the ball and we'll get good shot opportunities."
 
Iowa shot 60 percent in the first half and 54.5 percent for the game.  The Hawkeyes made 11 3-pointers and went 21-of-24 from the free throw line.  Freshman Tyler Cook was the only other Iowa player in double figures, scoring 17 points on 6-of-9 shooting.
 
"We're a young team," said Jok. "It's not an excuse, but it's still just the beginning of the season. We're six games in and we have a lot of season to go. 
 
"Two games is not going to define our season. We have to work hard, listen to what coach has to say and go from there."
 
Iowa returns to action Tuesday, facing Notre Dame in South Bend in the ACC/Big Ten Challenge.  Game time is 8 p.m. (CT) and the game will be televised on ESPN2.