Hawkeye Fan Shop — A Black & Gold Store | 24 Hawkeyes to Watch 2016-17 | KinnickEdge.org
Editor's Note: The following first appeared in the University of Iowa's Hawk Talk Daily, an e-newsletter that offers a daily look at the Iowa Hawkeyes, delivered free each morning to thousands of fans of the Hawkeyes worldwide. To receive daily news from the Iowa Hawkeyes, sign up HERE.
By RICK BROWN
hawkeyesports.com
IOWA CITY, Iowa — Fate hasn't always smiled on LeShun Daniels, Jr. At times during his career, the injury bug was tougher to avoid than a linebacker with a full head of steam.
 
But there he was Friday, one of 14 seniors saying goodbye to Kinnick Stadium. And Daniels' unsinkable spirit was rewarded. He became the Hawkeyes' newest 1,000-yard rusher during a 40-10 romp past No. 15 Nebraska.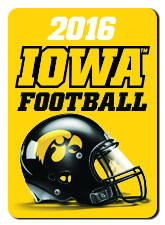 "I've been doing pretty much whatever I can to help the team win," said Daniels, a 6-foot, 225-pound bundle of positive energy.  "I feel like I've given it my all, especially in this last season, because I love everyone on this team. They're my brothers."
 
Literally and figuratively.
 
Daniels' younger brother, James, is a sophomore and the Hawkeyes' starting center who helped LeShun reach his grand milestone. James pulled to his right and helped clear LeShun's path to the end zone on Iowa's third touchdown of the game, Friday a 4-yard run in the second quarter. And then the brothers celebrated.
 
"To be out there with my brother, the person who has basically been my best friend since we were little, it's something you can't describe," LeShun said. "We'll carry this throughout the rest of our lives, something we'll tell our children about. It has been great."
 
Daniels feels a kinship with the rest of the offensive line, too, as well as the tight ends and receivers who have opened the door for his 1,013 yards. That offensive line has been in flux the entire season because of injuries.
 
"LeShun's one of my best friends and a great teammate," starting offensive tackle Boone Myers said. "He's one of the best teammates you could ever ask for. This means a lot to us as offensive linemen, helping him get over 1,000 yards, because he has put in so much time, effort, sweat, and blood."
 
Daniels became Iowa's first 1,000-yard rusher since Marcus Coker (1,384) in 2011, and the sixth different player to reach that milestone during the Kirk Ferentz coaching era. Fred Russell and Ladell Betts both did it twice. Shonn Greene and Albert Young made it there, too.
 
That list will grow to seven if Akrum Wadley has some success in Iowa's bowl game. The junior has rushed for 966 yards. Wadley and Daniels are the most productive tandem in school history.
"Both of us getting 1,000 yards is something we talked about before the season started," Daniels said. "Akrum has done an excellent job this year. He's a big play waiting to happen. He'll reach that mark because he does so many things well for this team."
 
That two-back attack helped keep both players fresh, and on the field. Neither missed a game this season. And that's saying a lot for Daniels. His 198 carries this season are two more than he logged for the first three seasons of his career combined.
 
He had at least 20 carries just three times, total, in his first three seasons. He had three of them this season alone, including a career-high 29 on Friday against the Cornhuskers.
 
Daniels had one career run of 43 yards or more coming into this season. He had runs of 43, 43, 50, 56, and 67 yards this season. He saw limited action in seven games as a freshman. He missed five games to injury as a sophomore and two more as a junior.
 
But he kept grinding away.
 
"He has had to fight injuries, on and off, that type of thing," Ferentz said after watching his team finish the regular season 8-4 overall and 6-3 in the Big Ten. "Nobody has a better attitude than him. He has been so easy to coach for four years, and this year he has clearly played his best football. He's improved as a player.
 
"That's something we ask our guys to do, whether it's week-by-week, day-by-day, year-by-year. And again, he represents that."
 
A three-star recruit out of Harding High School in Warren, Ohio, Daniels had scholarship offers from Iowa, Boston College, Bowling Green, and Akron. He has never regretted his decision.
 
"We've had our ups and downs the entire year," Daniels said. "To finish the season that way is indescribable. I can't thank everybody on this team enough, and I can't thank coach Ferentz enough for giving me the opportunity to come here and play Division I football. It has been a rush of emotion, and stuff I'll take with me for the rest of my life."
 
Iowa's season stood at a 5-4 crossroads after a humbling 41-14 loss at Penn State on Nov. 5.
 
"That was the most frustrating loss I've been a part of since I've been here," Daniels said. "We knew, as a senior class, that we couldn't go out like that."
 
Three victories later, two of them over No. 2 Michigan and No. 15 Nebraska, the Hawkeyes are heading into the bowl season with momentum and on a mission. No one on this roster has been on a winning bowl team.
 
"We finished off the last three weeks the way we wanted to, but we're not done yet," Daniels said. "We still have one more that we want to go and get."