Hawkeye Fan Shop — A Black & Gold Store | 24 Hawkeyes to Watch 2016-17 | Hawk Talk Monthly — Dec. 2016 | 24 Hawkeyes to Watch: Sammy Brooks | Q & A with Sam Stoll | Topher Carton feature | Carter Happel feature
By DARREN MILLER
hawkeyesports.com
IOWA CITY, Iowa — There are eight undefeated wrestlers in the University of Iowa's probable lineup for its intrastate dual against Iowa State on Saturday. The Cyclones have one.
 
Whether fans in Carver-Hawkeye Arena get to see Iowa senior Sammy Brooks (6-0) against Iowa State junior Patrick Downey (4-0) at 184 pounds remains to be seen. Downey hasn't competed in a dual in more than a month; he has also been known to bump up to 197 pounds, where he finished fifth at the NCAA Championships a year ago.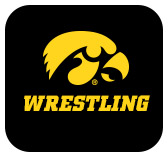 Brooks-Downey could be one of the marquee matches in the Iowa Corn Cy-Hawk Series with the Dan Gable Traveling Trophy at stake. The Hawkeyes have won the last 12 meetings and own an all-time series record of 62-16-2.
 
"When you're a competitor you want a competitive match, a competitive arena, you want fans watching you," Iowa head coach Tom Brands said.
 
Brooks hasn't lost since the 2016 NCAA Championships, where he placed eighth at 184. In the same tournament, then Iowa 197-pounder Nathan Burak defeated Downey, 3-1, in sudden victory.
 
"I like wrestling tough guys and I think he is going to come in here to beat me and I'm going to come in there to beat him, so it should be exciting," Brooks said. "I know he has some places where he is really good and things he can do well. I know if I stay where I'm good I'll be alright."
 
Brooks has won by bonus points in all six matches this season. He is 2-0 in duals with a 20-9 major decision over Tanner Lynde of Purdue and a technical fall over Martin Mueller of South Dakota State. Those duals were on the road and Brooks did not compete in the Iowa City Duals, making Saturday his first match on Mediacom Mat in Carver-Hawkeye Arena since winning a Big Ten championship on March 6.
 
"I'm ready to wrestle, it's exciting," Brooks said. "It's easier to get up for a tough opponent like Iowa State. You get up anyway, but this is an extra edge."
 
While Downey has never competed in the Iowa-Iowa State dual, this will be Round 4 for Brooks. As a redshirt freshman he lost to Kyven Gadson, 3-2 (at 197), then defeated Lelund Weatherspoon, 9-1, as a sophomore, and pinned Dane Pestano last season.
 
Although it won't be No. 1 versus No. 2 like a young Brands remembers when he was glued to a television in his basement, there will still be plenty of intrigue, in-state and beyond.
 
"The entire wrestling community is watching and you have a chance to either be the highlight tape or make the highlight tape," Brands said. "Either the highlight is on you or you're doing the damage to the opponent to be the highlight. That's what we want — we want our guys to be doing the damage to the opponent."
 
It will be the last time the Hawkeyes will be in action until the Midlands Championships on Dec. 29-30. The next home dual will be Jan. 20 against Penn State.